South Central Ambulance vehicles crash nearly 700 times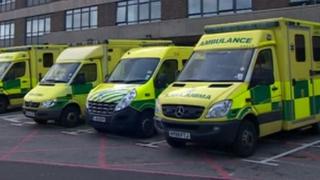 Ambulances and emergency response vehicles in the south of England were involved in nearly 700 accidents in the space of five years.
Figures obtained from South Central Ambulance Service (SCAS) showed, from April 2009, there was an average of 140 crashes a year involving ambulances, response cars and motorcycles.
In the year from April 2013, there were 157 collisions.
The service covers Buckinghamshire, Berkshire, Hampshire and Oxfordshire.
John Newell, a driving educator at SCAS, said: "The majority [of the collisions] were slow manoeuvring incidents. It's very unusual for them to happen at high speed. Serious accidents are very, very rare."
Breaking the down the figures, obtained through a BBC Freedom of Information request, there were 148 collisions in Berkshire in the five years from April 2009, 310 in Hampshire and 240 across Oxfordshire and Buckinghamshire.