Devon and Cornwall Police civilian staff face pay cut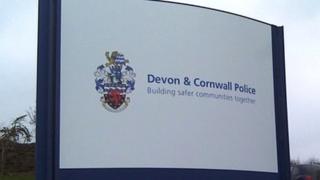 Almost 400 civilian staff at Devon and Cornwall Police face pay cuts under a review of their jobs.
The force has 2,225 civilian staff who carry out a range of jobs, from working with forensics to running call centres.
One member of staff posted on an internal forum that they would lose about £8,000.
Unions and Chief Constable Shaun Sawyer claimed it was the best deal that could be reached, but staff have reacted angrily.
'Morally corrupt'
Under the job evaluation programme, about 55% of civilian staff will see their basic pay remain the same and 28% will receive salary increases.
But 16% - or 363 staff - will have their pay cut, the force said.
Simon Hall, BBC South West home affairs correspondent
Job evaluation has become a toxic issue in Devon and Cornwall Police.
Senior officers are well aware of that, and this version has been handled with great care.
But it retains the potential to be highly damaging for the force.
Whether it will be depends on the reaction of those staff who lose out.
It would not reveal how much the maximum pay reduction would be, except to say it would be greater than 15%.
One member of staff who is expecting to get a £360 rise accused the system of being "morally corrupt", and a number took to internet forums to reveal their losses and criticise bosses and unions.
Senior officers said those losing out would have their pay protected for between one and two years and the option to apply for other jobs within the force.
Chief Constable Sawyer said: "I believe this is the right balance for the public, for the force, and for the collective of the workforce, but for some individuals it is not."
Unions - including Unison, Unite and the GMB - said they would recommend members accepted when they vote on it in a ballot later this month.
Bill Stevens, from the GMB union, said: "We would love to be able to have a government that did give us the funding that Devon and Cornwall Police deserve.
"But sadly we're not in that situation at the moment."
All public bodies, including the NHS and councils, have been required to go through job evaluation in an attempt to ensure fair pay for staff.