East Surrey Hospital outpatient services 'need improving'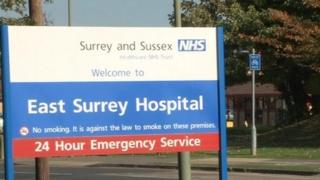 A Surrey hospital has been told its outpatient services need improvement but several other areas are good, according to care inspectors.
Officials visited Redhill's East Surrey Hospital unannounced in May.
They found A&E, medical care, surgery, critical care, maternity and family planning services, children's care and end of life care were good.
But outpatient clinics were overbooked and often ran late while appointments could be cancelled at short notice.
A report by the Care Quality Commission found A&E was meeting waiting time targets and the maternity service was busy but provided excellent care.
'Technology issues'
Examples of outstanding practice included the midwife-led birthing unit and neonatal intensive care unit, staff "going the extra mile" to meet pastoral needs, and a pre-assessment clinic at Crawley Hospital in West Sussex which had been extended in response to local demand.
But inspectors said a large number of ad-hoc outpatient clinics made sure waiting time targets were met, and these relied on the goodwill of staff.
They also said medical records were not always complete and clinics often saw patients with temporary notes because records could not be obtained in time.
The CQC's chief inspector of hospitals Professor Mike Richards said: "Some work is needed in outpatient services to bring them up to the standard we saw in other areas - but I think we can be optimistic that this can and will be done."
Michael Wilson, chief executive of Surrey and Sussex Healthcare NHS, said the trust had invested heavily in frontline staff and new infrastructure, and issues in outpatients related to using new technology and providing services for a growing population.
The hospital was built for a population of 220,000 and now served 535,000 people, he added.
But he said the trust could not keep rebuilding the hospital and making it bigger and would be working with GPs and community services to provide more care in patients' homes.