Why choose Birmingham for a sperm bank?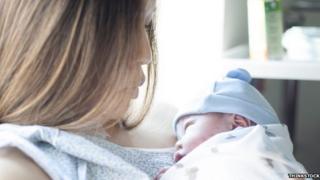 A National Sperm Bank is to be set up in Birmingham to meet a UK-wide donor shortage - but why has the city been chosen and what do its founders hope to achieve?
"We're not just any bank," says the cheeky advert on the Birmingham Spermbank's website, as it urges men to "open an account today".
But behind the cheery call lies a national shortage which sees some people who long to be parents stuck on waiting lists for two years or longer.
Some seek sperm donors abroad or through unregulated services online while others stop treatment altogether.
Birmingham Women's Hospital, which has run the clinic for four years, and the National Gamete Donation Trust (NGDT) are to run a National Sperm Bank from October, following £77,000 of funding from the Department of Health.
Laura Witjens, NGDT chief executive, said Birmingham had been chosen because it was among only "a handful of clinics" that attracted enough sperm donors. It is already supplying other clinics, for instance.
However, one of the main reasons it was chosen was its large Afro-Caribbean and south Asian populations - two communities in which the national shortage of donated sperm is particularly acute.
"Birmingham was chosen for a variety of reasons," she said. "A - there is a very good clinic there already and B - there is a vast number of 20 to 29 year olds, higher than the English average, and it's also a very ethnically-mixed area."
Birmingham's population make up compared to England and Wales
Ethnic group
Birmingham
England and Wales
White
57.9%
86%
Asian/Asian British
26.6%
7.5%
Black/African/Caribbean/black British
9%
3.3%
Mixed/multiple ethnic group
4.4%
2.2%
Men aged 18 to 40 (all ethnic groups)
35.7%
31.5%
She said patients from south Asian backgrounds were more particular about the kind of sperm donor they would accept and often wanted donors from the same ethnic, religious and educational backgrounds. She said some had chosen to remain childless until the exact match was found.
"It is a very complex issue and one which the Birmingham clinic deals with on a day-to-day basis through its patients - more so than any other clinic I have visited," she added.
Some Muslim men have come forward as donors in the city but want their sperm to be used for IVF, as this is conception outside the body, whereas they consider donor insemination against their religion.
---
Viewpoint of a sperm donor: Jimmy, 22, a student from Coventry
I've gone to the Birmingham clinic about twice a month for the past nine months. I go by train, it's not really an inconvenience. Everyone there is very friendly.
I initially started doing it because I had a friend who was struggling to have children and it made me want to help. I want to help other people, some who really go through it. I just think why not?
Obviously you are concerned but I have faith if someone has gone through this to have children they will go to the effort to make sure they have a good life.
I don't think of [babies conceived from my sperm] as my children as I think the parent is the person who brings them up.
I don't feel an emotional bond [to the children]. At my age now I don't know I would be a good parent.
---
A BBC Asian Network report found in the first six months of 2010 just one Asian man registered as a new sperm donor nationally. However, some Asian couples have addressed the problem by a family member donating sperm, the documentary found.
Dr Sue Avery, director of Birmingham Women's Fertility Centre, said some of their Asian patients did use "known donors" as they currently had a "dire shortage" of Asian donors.
Ms Witjens said she hoped that persuading the city's ethnic communities to engage with the programme would help to tackle the national shortage.
The use of donated sperm in fertility treatments has increased generally, Human Fertilisation and Regulatory Authority (HFEA) figures show. In 2011, a total of 1,271 cycles of donor insemination were performed in women who registered with a female partner - 243 more than in 2010 (a 23.6% increase), resulting in 161 babies being born.
This increase in demand is largely responsible for the national shortage.
The new bank will mainly donate to heterosexual couples, but Ms Witjens said it would also help meet a growing demand from single women and lesbian couples.
This policy, in particular, has proven controversial. The Mail on Sunday ran a front page story which Ms Witjens said had led to a backlash from some quarters, including negative messages on email and social media from people who thought she was attacking the traditional family unit.
Ms Witjens said the policy followed the 2008 Human Fertilisation and Embryology Act, which removed the reference to the "need for a father" and recognised both partners in a same-sex relationship as legal parents.
Pointing to the law change, Ms Witjens said: "The demand from same-sex couples and single women has increased exponentially.
"Society is more accepting now. Most of them want to have a child with a man but the desire to have a child does not stop for a woman just because Mr Right isn't there."
However, some religious leaders have criticised the ethics of meeting this demand (from single women and lesbian couples) with a National Sperm Bank, saying the role of a father cannot be replaced.
Ms Witjens, who began working for the NGDT after being an egg donor herself, said it was "very difficult" to recruit men with about every 100 inquiries resulting in just one donor.
Some were put off by the commitment, which could include twice weekly visits to the centre, the need to abstain from sex before visits and cut down on alcohol. Others did not meet the criteria.
She said: "We are saying to British blokes in the prime of their lives you can't have sex and don't have alcohol. I mean hello! But the ones who are committed are absolutely wonderful."
Most were motivated by the desire to help others, rather than £35 payments per visit, she said, adding that attitudes to sperm donation were different in her native Netherlands.
Most significantly, she wanted people to "move away" from what a sperm donor does at the clinic.
"I want the focus to instead be on what he is, which is a very special man who is helping people to achieve their life-long dream of having a family."