Jailed Afghan death marine loses Supreme Court appeal bid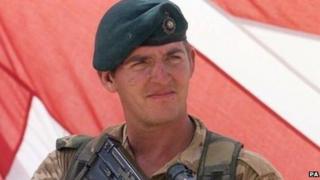 A former Royal Marine jailed for killing an Afghan insurgent has lost a bid to take his fight to overturn his conviction to the Supreme Court.
Sgt Alexander Blackman, of Taunton, was convicted of murder at a court martial in November and jailed for 10 years.
In May the Court Martial Appeal Court in London reduced the minimum term he must serve to eight years.
But a judge at the same court has now refused his application to continue his battle at the Supreme Court.
Blackman must serve the minimum term before he can be considered for parole.
Helicopter gunfire
Earlier this year, his appeal against conviction was dismissed by Lord Chief Justice Lord Thomas, Sir Brian Leveson and Lady Justice Hallett.
His latest application to continue his battle at the Supreme Court - the UK's highest court - has now been refused by Lady Justice Hallett.
Blackman was serving with Plymouth-based 42 Commando when the murder took place on 15 September 2011.
A patrol base in Helmand province came under fire from two insurgents.
One of the attackers was seriously injured by gunfire from an Apache helicopter sent to provide air support, and the marines found him in a field.
Footage from another marine's helmet-mounted camera showed Blackman shooting the Afghan prisoner in the chest at close range with a 9mm pistol.
'Broke Convention'
Blackman told him to "shuffle off this mortal coil", before swearing at the man and saying: "It's nothing you wouldn't do to us."
He then told his comrades: "Obviously this doesn't go anywhere, fellas. I just broke the Geneva Convention."
The court martial board in Bulford, Wiltshire, found Blackman guilty of murdering the insurgent. Two other marines were acquitted.
Blackman was also "dismissed with disgrace" from the Royal Marines. He had served with distinction for 15 years, including tours of Iraq, Afghanistan and Northern Ireland.
Blackman had denied murder, claiming he believed the victim was already dead and that he was taking his anger out on the corpse.