Harris has 'no remorse', youngest victim says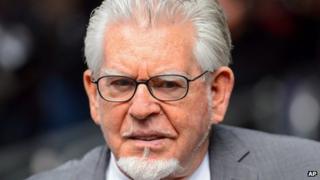 Rolf Harris's youngest victim has claimed the performer has "no remorse in any shape or form" after he launched a bid to appeal against his conviction.
Wendy Wild, from Southampton, was groped at the age of seven or eight when she went to get the musician's autograph in the late 1960s.
The 52-year-old said she felt as if Harris was saying "you're never going to stop me" with his legal bid.
Harris's lawyers have lodged papers at the Court of Appeal.
The 84-year-old was jailed in July for five years and nine months at Southwark Crown Court for 12 indecent assaults on four girls aged between seven or eight and 19.
A judge will now decide if his appeal bid should progress to a full hearing.
'Terrible shock'
Ms Wild, who has waived her right to anonymity, said: "I was very shocked by it and very upset. It was the last thing I imagined hearing.
"It really shook me up and it's really wrong of him. It shows that he's got no remorse in any shape or form.
"I remember as a child his eyes were very cold. I felt that again during the trial.
"It's almost as if he's saying 'you're never going to get to me, you're never going to stop me'."
Ms Wild was assaulted at a community centre in Hampshire.
Harris's other victims included two girls in their early teens and a friend of his daughter's.
The offences took place between 1968 and 1986.
Harris, who will serve just under three years in prison, has been spat at by another inmate at HMP Bullingdon in Oxfordshire, but was not hurt.
He has already been stripped of a Bafta fellowship and faces losing his CBE in the wake of his conviction.