A11 Elveden bypass to be shut for bat bridges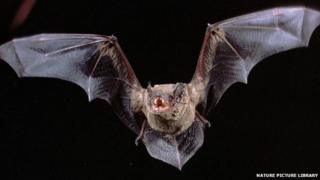 A dual carriageway will shut overnight for five days so bridges can be built for bats to cross the road.
The £102m Elveden bypass on the A11 between Suffolk and Norfolk partially opened to drivers in April.
But it will close again so four wire mesh bridges stretching between telegraph posts can be installed.
Wildlife experts say at least six bat species live in the surrounding woodlands and the bridges will avoid them hitting vehicles.
The mesh is being installed at four points between Mildenhall Woods and Chalk Hall Farm.
The bridges, made out of steel wire and netting stretched in a V-shape, are designed to help the bats follow the route without becoming road victims.
Bats send out sound and move around following the echo sent back from structures on the ground.
The removal of features which the signals bounce off along routes they frequently use can confuse them.
So the work can be carried out, the road will be shut from 22:00 to 06:00 BST every weeknight this week between the Fiveways roundabout and the new B1106 Elveden junction, the Highways Agency said.
The new nine-mile (15km) bypass is due to be fully opened to traffic in the autumn.