Prince Harry unveils WW1 Memorial Arch in Folkestone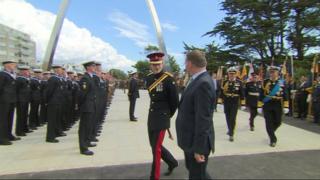 Prince Harry has unveiled a monument in Folkestone, where millions of men marched to boats taking them across the Channel to fight on the Western Front.
The steel Memorial Arch was built as part of the commemorations marking 100 years since Britain joined World War 1.
The arch is at the top of a hill leading down to the harbour where boats awaited the troops.
Hundreds of people walked along the route before the memorial was dedicated by the prince.
The prince also laid a wreath at the nearby war memorial.
An estimated 10 million troops passed through Folkestone on their way to war.
The steep downhill street is now named Road of Remembrance.
The parade was organised by Shepway District Council and the charity Step Short, which is named after the order given to the marching men to shorten their stride as they went downhill.
It included 100 military personnel supported by the Band of the Brigade of Gurkhas and more than 800 civilians.
Damian Collins, Conservative MP for Folkestone and Hythe and chairman of the Step Short charity, said: "This Memorial Arch stands in memory of all those who served, those who made the ultimate sacrifice and those who came home.
"This site is very special. Folkestone was the port which millions of servicemen made their journey to the harbour, to France, to the trenches of the Western Front."
A temporary arch was built across the road in the 1930s.
The new arch includes a statue of an infantry soldier under its northern side.