Botulism kills birds in Merseyside, Manchester and Staffordshire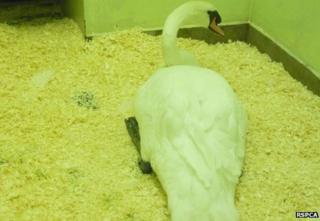 More than 130 birds have died from avian botulism in parks across Merseyside, Greater Manchester and Staffordshire, the RSPCA has said.
RSPCA officers have found the bodies of swans, Canada geese, coots and ducks and have collected about 30 dead birds from Birkenhead Park in Merseyside.
The RSPCA is rescuing and treating birds that have contracted the disease.
Humans are not thought to be in danger, as the disease cannot be spread by touching or being near infected birds.
Avian botulism is caused by a water-soluble toxin produced by the bacterium Clostridium botulinum and is more often seen in warmer weather.
The RSPCA said the disease had affected birds at Newsham Park, Stanley Park and Walton Hall Park all in Liverpool, Boggart Hole Clough in Manchester, Rudyard Lakes in Rudyard, Staffordshire and Firs Park in Leigh, Wigan.
Only one swan rescued from the group of about 50 at Birkenhead Park was able to be treated, the RSPCA said.
RSPCA Deputy Chief Inspector Ben Strangwood said: "Bird populations at some of the locations are being devastated and these are really horrible incidents for officers to deal with, as they just want to save the birds.
"We are trying to rescue as many sick birds as possible, but we have to concentrate our resources on helping animals that still have a chance.
"Where there are dead birds we're urging people to contact their local authority to get those removed straight away," he said.
The bodies need to be removed "swiftly to prevent a build-up of toxins in the environment" so the outbreak of the disease does not spread, the RSPCA said.