North East Ambulance Service gave patients given out-of-date drugs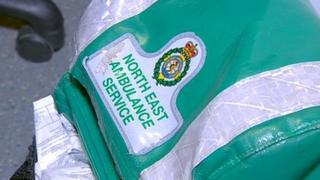 The North East Ambulance Service Trust has referred itself to the health care watchdog after paramedics administered out-of-date drugs to patients.
Officials said a routine audit in April revealed 75 doses of morphine and diazepam, which has passed expiry dates, were given out by 26 paramedics.
The trust said no patients were put at risk, but the effectiveness of the drugs was likely to have been reduced.
It has informed the Care Quality Commission and NHS regulator Monitor.
In a statement the trust said: "During a routine audit by NEAS, a number of out of date controlled drugs were found to have been administered to patients. In total 75 doses had been administered by 26 paramedics.
'Thorough investigation'
"The specific medicines were Morphine, Oramorph oral suspension and Diazamuls. No patients were put at risk due to the drugs being out of date, though their potency to provide pain relief may have been less effective.
"The Care Quality Commission and Monitor are aware of the situation, along with our commissioners.
"Since the error came to light we have tightened-up our controlled medicines checking procedures."
A spokesman for the Royal Pharmaceutical Society said it was important that the trust carry out a "thorough investigation" so it can understand how this has happened.
Earlier this year, Care Quality Commission inspectors found shortfalls in the management of medicines at the trust and warned improvements had to be made.
A CQC spokesman said it planned to conduct follow-up inspections at the trust.