George Galloway's ex-aide discharged over data breach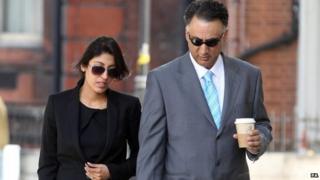 A former aide to George Galloway MP who admitted obtaining personal data illegally has received a 12-month conditional discharge.
Aisha Ali-Khan, 34, asked her policeman husband to obtain emails without consent, Southwark Crown Court heard.
Mohammed Afiz Khan was given a six-month jail sentence, suspended for two years, after admitting two misconduct charges.
The 46-year-old has been dismissed by the Metropolitan Police.
'Justifiably offended'
Formerly head of the Muslim contact unit at the Met's counter-terrorism unit SO15, he admitted disclosing restricted information to his wife in 2012 relating to the arrest of radical Muslim cleric Anjem Choudary.
At the time she was employed as a parliamentary secretary by Mr Galloway, the Respect MP for Bradford West.
The married couple live in Keighley, West Yorkshire.
Sentencing, the Recorder of Westminster Alastair McCreath told Ali-Khan: "I accept that your criminality arises in circumstances where you were offended, and justifiably so, by someone putting material on the internet that was offensive to you.
"The request was unlawful. Whilst what you did was against the law, the request was understandable and led to nothing."
Her husband also admitted a second charge of misconduct relating to obtaining CCTV from South Yorkshire Police.
The judge told him he had abused his position as a senior police officer but accepted he had shown remorse over what had happened.