Ten coastal towns get £8.5m for projects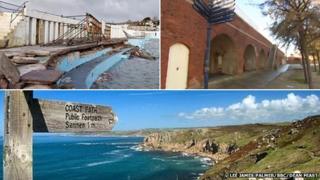 Ten coastal towns have been given £8.5m in government cash to help create nearly 1,400 jobs and repair storm-damaged areas.
Schemes set to benefit include the Jubilee Pool in Penzance, Old Portsmouth's historic arches, and the South West Coastal Path.
The cash will be used to create tourist attractions, regenerate historic sites and provide new flood defences.
The awards come from the government's Coastal Community Fund.
Coastal Communities minister Penny Mordaunt said the money was set to make a "big difference" to towns affected by the winter storms.
Penzance will receive £1.95m to repair and relaunch the Grade II listed art deco lido which was damaged by storms earlier this year. A project to refurbish historic arches between the Round and Square Towers in Old Portsmouth, known locally as the hotwalls, will receive £1.75m.
The scheme will create more than 105 jobs by transforming the area into an artistic quarter with studios, a cafe and shop.
Just under £1m has been awarded to repair, improve and promote the South West Coastal Path that spans Cornwall, Devon, Dorset and Somerset. It will generate 788 jobs from construction, management and tourism.