Red kites thrive in the Chilterns 25 years after scheme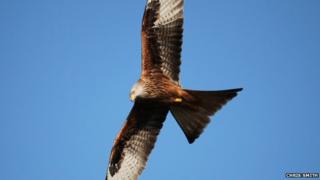 An endangered species of bird is thriving 25 years after just five birds were released in the Chilterns.
The Chilterns Conservation Board said the reintroduction of red kites on the Oxfordshire-Buckinghamshire border on 1 August 1989 was one of the UK's most successful conservation projects.
Another 88 were released by English Nature and the RSPB over five years.
There are now at least 1,000 breeding pairs in Oxfordshire, Buckinghamshire, Hertfordshire and Berkshire.
Neil Douglas, senior nature policy officer at RSPB, said: "It is heartening to see these impressive birds become a popular spectacle and well-loved feature of our landscape."
Red kites became extinct in England by the end of the 19th Century because of human persecution, but a small population survived in Wales.