Leicester and Glossop 'lost sounds' for future research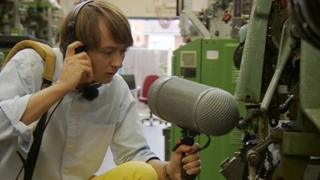 The sounds of part of Leicester and Derbyshire are being collected to create a digital audio archive for future researchers.
The Affective Digital Histories project focuses on Leicester's Cultural Quarter and Glossop's Howard Town and Whitfield Wards from 1970s to the present day.
It hopes to gather sounds reflecting their industrial heritage to show how the areas have changed over time.
The aim is for people to explore and research history through sounds.
It is believed the city and the market town would be the first in the UK to have a digital audio archive.
'Record your sounds'
Composer and sound artist Dr Andrew Hill said the aim was to capture the sounds before they disappeared.
"Yes you can look at old photographs and old maps and that gives you someway of getting into the past, but through sound people can really immerse themselves in the environment," he said.
Researcher Colin Hyde, of the University of Leicester, said they were also asking people to record up to a minute of current everyday sounds from the two areas to add to the archive.
Mr Hyde said the sounds would later be publicly available, to create soundscapes, trails or any other audio.
Dr Ming Lim, of the university, said: "The project is unique... this work has not been done before in the way that we are doing it now."
Forty years ago, the Cultural Quarter was once a bustling industrial and commercial district, home to hosiery and footwear manufacturers and a bus depot.
The Derbyshire market town experienced large-scale de-industrialisation in the 20th Century, resulting in abandoned cotton and paper mills.
Later abandoned or under-used industrial buildings were used by squatters or for light industry as well as for gigs, raves and art installations.
People with memories and recordings of old buses, parties, hosiery and shoe manufacturing machines have been encouraged to get involved in the project.
It is funded by the University of Leicester and the Arts and Humanities Research Council.