Red Arrows recruits: Three new pilots to join RAF acrobatic team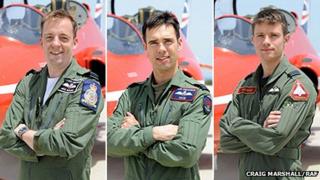 Three new pilots will join the RAF's Red Arrows aerobatic display team next year.
Flight Lieutenants Thomas Bould, 32, Michael Bowden, 33, and Emmet Cox, 35, will begin training later this year and start flying with the nine-strong team in 2015.
They will be based at RAF Scampton in Lincolnshire for three years.
Sqd Ldr Jim Turner will also be replaced by Flt Lt Dave Montenegro, who left the display team in 2011.
The team is celebrating its 50th anniversary in 2014 and has performed more than 4,500 displays in 55 different countries since it was formed.
The team officially became nine-strong in 1968, after which the Red Arrows' diamond-shaped flying formation - the Diamond Nine - became its signature move.
Flt Lt Bowden, who is from Newport, Wales, and has completed two tours of Afghanistan, said: "I have always had a passion for pure flying and the Red Arrows hold the top trump card in that arena."
He said he had dreamed of joining the Red Arrows "since being a small boy".
Bradford-born Flt Lt Bould, who deployed several times to the Falklands Islands, said: "Aerobatic flying will be very different to frontline missions, but incredibly demanding and rewarding in different aspects."
Flt Lt Cox, from Auckland, New Zealand, emigrated to the UK in 2001 and joined the Royal Air Force a year later.
"It's going to take a lot of hard work and constant practice over the winter, but when the team is rewarded with the red flying suits and the right to display to the public, it will all be worth it."
The new recruits will replace out-going Red Arrows pilots Mike Child, James McMillan and Martin Pert.
Sqd Ldr Jim Turner said he had spent three years in charge of the team and wanted to spend time with his family and pursue a career as an airline pilot.
Flt Lt Dave Montenegro will start training for his new role on 7 August.