Staffordshire Police pulls out of West Midlands partnership work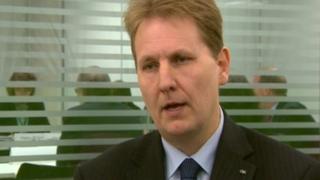 Staffordshire Police has pulled out of a two-year partnership with West Midlands Police working on witness care and preparing court cases.
It said the collaboration did not represent value for money.
West Midlands Police Chief Constable Chris Sims said he was "disappointed" by the decision.
Plans for the forces to share armed response, dog support and training, tactical planning and roads policing were abandoned last year.
Staffordshire's Police and Crime Commissioner Matthew Ellis said the decision had been taken after a review into services.
"[The review] over the last few months has shown little or no benefits from the partnership set up between the two criminal justice teams," he said.
"Any collaboration with other forces or organisations must be the right fit and the benefits must be very strong for Staffordshire people."
The two forces would continue to work together on motorway policing, firearms licensing, collision investigation and legal services, he said.
Mr Sims said: "I am aware that a recent review of the arrangement highlighted some opportunity for further improvement and integration but I am confident that, given time, we would have been able to find solutions to these issues."