Road rage murder: Lorry driver Mark Slater guilty of A57 killing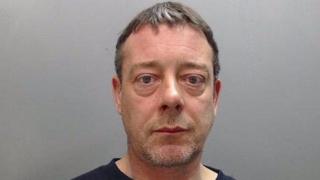 A lorry driver has been convicted of using his 17-tonne truck to murder another motorist.
Mark Slater, 47, from Oldham, deliberately drove over the head of grandfather Trevor Allen, 56, from Salford, in a road rage attack.
Mr Allen's body was found near his van on the A57 Manchester Road, Rixton, near Warrington, on 15 February.
Slater admitted causing the victim's death but told the jury at Chester Crown Court he did not see him.
'Rot in hell'
The court heard Mr Allen had got out of his Citroen Berlingo van and stood in front of the DAF truck and trailer driven by Slater.
Slater made no reaction when he was found guilty. He was remanded in custody and now faces an automatic life sentence.
Members of Mr Allen's family burst into tears in the public gallery as the verdict was delivered.
Outside court, his eldest sister Muriel Farrell, 62, from Middleton, said of her brother's killer: "I hope he rots in hell, I really do. We were all praying today for that murder verdict."
Widower Mr Allen, a father of three and grandfather of four, was also a truck driver and HGV instructor.
Mrs Farrell said her family believed her brother may have spotted Slater using his phone while driving, which he admitted, shortly before the attack.
He may have indicated to Slater to get off the phone, sparking the fatal confrontation, his family said.
'Overtaking session'
The defendant had claimed he was involved in an "overtaking session" with Mr Allen, who had thrown coins at the window of his cab.
Slater, of Hillside Avenue, Oldham, said he simply did not see the victim standing in front of his vehicle.
But Ian Unsworth QC, prosecuting, said Mr Allen was wearing a high visibility jacket and it was "obvious" he was standing in the road.
He accused Slater of being "a big man behind the wheel" and a "bully" in his lorry.
The court heard the lorry's tachograph showed it braking sharply before the killing and Slater "flooring" it to its maximum 54mph, exceeding the road's 40mph limit.
Det Insp Peter Case, of Cheshire Police, described the attack as "truly shocking".
He said: "The injuries sustained by Mr Allen were horrific - whatever had happened between the pair leading up to this incident, nothing justified Slater behaving in the way he did that day."
'Raging bull'
Earlier in the trial, the jury was told of two previous road rage attacks involving Slater.
One motorist described him as a "raging bull" on the M62 in January last year and told how the lorry driver had threatened to kill him.
An incident in Oldham on 17 December was recorded on a "dash cam" and showed Slater leaving his lorry cab on two occasions, running at a car and kicking and punching the vehicle while trying to force the driver's door open.
The court heard the attack began when Slater tried to cut in at a roundabout after he had got in the wrong lane.
The other driver Jordan Ogden, 24, described the prolonged series of events that followed as "like an animal hunt".
Mr Ogden said: "It looked like he wanted me and he wanted me dead."
The jury at Chester Crown Court convicted Slater following three and a half hours of deliberations at the end of a week-long trial.