Jem Carney and Randolph Turpin boxing belts auctioned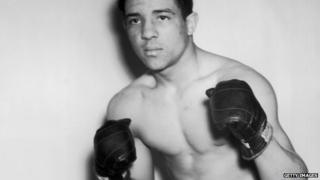 Belts that belonged to two former world champion boxers have been auctioned.
A silver belt won by Birmingham-born boxer Jem Carney in a 74-round fight with Jack McAuliffe in 1887 was sold for £7,000.
Randolph Turpin's 1951 Boxing News belt was auctioned for £2,400 at the sale by Fellows Auctioneers in Birmingham's Jewellery Quarter.
Turpin was nicknamed "the Leamington Licker" after his hometown of Leamington Spa in Warwickshire.
Lightweight Jem Carney fought Jack McAuliffe for the American Holske International Challenge title in Revere in Massachusetts, USA.
The bout was stopped and declared a draw after more than four hours with both fighters being awarded a belt.
Randolph Turpin won three British middleweight titles during the 1950s and defeated Sugar Ray Robinson at Earls Court in London to win the world middleweight title in 1951.
The Boxing News trade paper awarded him a belt after he was voted the fighter to make the biggest contribution to British boxing that year.
A bronze statue of Turpin was put up in Warwick's Town Square in 2001.