Substance find in Newhall prompts evacuation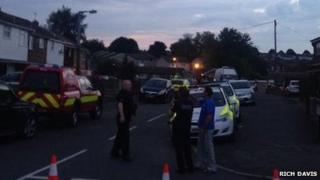 More than 200 residents have been evacuated from homes in south Derbyshire after the discovery of what police called a "potentially volatile substance" in a flat.
Derbyshire Constabulary said people living within 100m of Belvoir Crescent in Newhall had been moved to temporary accommodation.
Supt Paul Markham said the substance was discovered at a flat during a search of the premises.
A 55-year-old man has been arrested.
Mr Markham said: "We are not looking for anyone else in connection with this matter and we are hoping that people will not be inconvenienced for too long.
"The evacuation is purely a precaution to ensure everybody's safety and residents will be allowed back home as soon as possible."