Selby swing bridge closed for repairs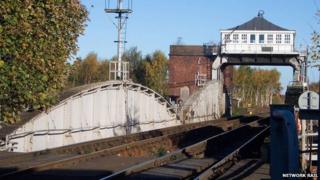 A "problematic" railway swing bridge will be closed for the next six weeks, leading to train diversions in North and East Yorkshire.
Selby bridge is expected to reopen on 8 September when the major part of its £8m refurbishment should be completed.
The work on the bridge, built in 1889, includes repairs to steelwork, hydraulics, way-beams and repainting.
Buses will replace trains between Selby and Hull and trains between Hull and London will be diverted through Goole.
Brent Huntingdon from Goole Town Council said he was concerned about the knock-on effect of extra trains through the East Yorkshire town.
"Because the [level crossing] barriers will be going down so many more times, traffic will be backing up down Pasture Road [and] Boothferry Road, the main through road into the town," he said.
Selby rail station manager David Hatfield said: "It is a headache but ultimately I think anyone that travels across the bridge regularly and actually sees the bridge realises that the refurbishment work needs to be done.
"Currently there's a speed restriction on there of 5mph, or 15mph for certain trains, and really that isn't sustainable.
"The bridge has been problematic."