Warnings issued over teen drownings across England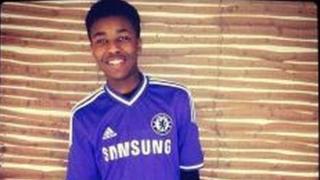 Warnings have been issued following a series of drownings involving young men and teenagers in lakes and rivers across England.
In Cambridgeshire, the body of Rony John, 15, was recovered from the River Great Ouse.
On Wednesday, the body of student David Zikhali, 20, was found in the Tees.
And in Bedfordshire, police found the body of Conor McColl from Luton at a disused quarry the day after the 16-year-old went missing while swimming.
One resident of Clophill village, where the search was taking place, said children had been climbing over the fence and getting into the water "for ages" and it was "an accident waiting to happen".
"The problem is that it used to be a quarry and the water is very, very deep."
Meanwhile, tributes have been paid to Kyrece Marshall, 13, who was swept into deep water in the Thames near Marlow, Buckinghamshire.
In Shropshire, paramedics who rescued a 15-year-old boy who was swimming in Blue Pool, Telford, said other children had refused to leave the water, despite the pleas of the ambulance crew.
Royal Society for the Prevention of Accidents (RoSPA) urged people to be vigilant.
Community safety officer Carlene McAvoy said: "With the heat, we often see young people, particularly men, tempted to cool off or jump into open water.
"We understand the temptation to want to go swimming at open water sites, especially on a sunny day.
"But it is important to consider that even on a hot day, the water might be a lot colder or deeper than you were expecting and there may be underwater debris that you cannot see from the bank."
RoSPA said in 2012, a total of 381 people drowned in accidents across the UK.
It said 185 of these deaths occurred in canals, rivers and lakes. Figures showed young men were at particular risk.
The Royal National Lifeboat Institution (RNLI), which deals with rescues at sea, as well as tidal rivers, said in 2013, 167 people lost their lives at the coast - the highest number in four years.
It said adult men accounted for more than two-thirds of those deaths.
Ross Macleod, coastal safety manager with the RNLI, said: "We want people to go to the coast and enjoy it but we want them to understand there are risks."
The Outdoor Swimming Society said: "Telling people to stay away from outdoor water doesn't work.
"You are always going to get teenagers - particularly teenage boys - taking risks.
"The message we are trying to get across is to be sensible about the risks they are taking."
In Derbyshire, a scheme that saw a toxic "blue lagoon" dyed black to deter swimmers was said to be having the desired effect.
High Peak Borough Council, which oversaw the scheme, said it had been repeated this year.
"The residents up there reported the number of people going up there had dramatically reduced," a spokesperson said.