Heat-wave: Where you go to escape the city heat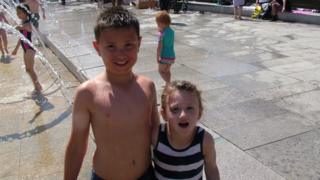 Temperatures reached 28C in many parts of England this week - and those in the cities felt it most.
"It will always be hotter in cities because the heat gets trapped by the buildings, so you feel it more" said BBC weather presenter Sara Blizzard.
Her top tip for escaping the glare of the sun is the east coast of England, where there is a cooling north-easterly breeze and a bit of cloud around.
But where do you like to go to cool off? BBC News Online asked readers for their suggestions. Here is a selection.
Up on the roof
Dean Campbell, from the West Midlands, told us Walsall's New Art Gallery was a good place to escape the heat.
The five-storey building opened in 2000 and has a roof terrace on its fourth floor.
Mr Campbell said he spent Thursday, "cooling off in the shade of the gallery".
Failing that, he added: "My house is always cold even in the heat of summer."
The shadow of a legend
Simon Stubbs, from Nottingham, was cooling off with his two children Hannah, 12, and Toby, 10, in the considerable shadow cast by the city's statue of Brian Clough.
The former Nottingham Forest manager guided the team to the European Cup in 1979 and 1980 - so it was brave of Toby to sit so close to the statue while wearing a Chelsea shirt.
"He's a Forest fan, really," insisted Mr Stubbs.
He said he and his children were having a couple of drinks in the shade before going shopping.
A walk in the park
Go Native told BBC London's Facebook page he liked to head to Holland Park in the heat.
He said the park's "shaded paths" were a good way to stay out of the sun.
Other suggestions from Londoners included Sue Lawes' tip to head to the river - "what little access to it that hasn't been developed for private luxury flats".
Meanwhile, Roland Shaw said he was off to Spa Fields Park in Islington.
The green, green grass
Newcastle-upon-Tyne's Old Eldon Square is one of the city's most popular spots for sunbathers.
"It's like our very small version of Central Park in New York," said Tom Wilson, one of the owners of Old Eldon Jewellers which looks out on to the square.
"I have seen people bringing their rugs and deckchairs down there before for a nice picnic.
"You've got the buses going past and the shops all around you, but it's somewhere you can relax in the heart of it all."
On the beach
Jane Cullen Greenwood, from Merseyside, recommends the North West's coastline as a spot to cool down.
She advises bringing "plenty of drinks and ice cream".
"Crosby, Waterloo and Otterspool are all beautiful places," she said.
Crosby beach is the location of Antony Gormley's Another Place sculptures - 100 cast iron figures which stare out to sea.
Head to 'Derbados'
For Derby residents, their surroundings are transformed by a spot of sun.
In local lingo Derby - with the arrival of its city centre beach - is transformed into "Derbados".
But Alex Todd told us he liked to head out of the city altogether - to Dovedale, and the nearby village of Mapleton.
And how does he refer to it? "Aiya Mapa", of course. "I've been there two days in a row - might make it a third," he said.
Splashing out
"We didn't come prepared for the weather," said Eileen Everitt who went to the Old Market Square water fountains in Nottingham with her niece and nephew, Lewis and Olivia, to cool off.
"Next time, we'll bring a towel."
Other residents in the city have access to a roof garden - on top of Nottingham's main shopping centre, The Victoria Centre.
"Despite it being in the city centre, it's very private and secluded - no one would ever suspect it's there," said a Nottingham City Homes spokesperson.
Do you agree with these choices? Where else is a good place to cool off on a hot day in the city?
Send your pictures and stories to england@bbc.co.uk with the word "hot city" in the subject line.