South Coast alert over weever fish stings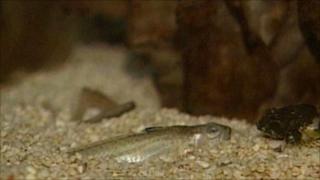 Warnings have gone out to people on beaches to protect their feet after ambulance crews were called to reports of four weever fish stings in one day.
South East Coast Ambulance Service (Secamb) said it was reminding people to take care on the south coast.
A spokesman said people should cover their feet because the summer months were likely to see an increase in stings from sea creatures.
The fish have spines laced with venom and hide in the sand in shallow water.
A Secamb spokesman said this weekend that a paramedic who dealt with four stings in Sussex on Wednesday had wanted to warn people to take care and also be aware that the majority of weever stings do not require ambulance assistance.
"While painful, weever fish stings can usually be treated with basic first aid unless someone is showing signs of a major allergic reaction," he said.
"By submerging the foot in hot water the symptoms will often subside."
People who react to the stings with breathing difficulties, major irritation or an obvious allergic reaction should either call for ambulance assistance or get help from a lifeguard, he said.
Wider figures for weever stings were not available.
The NHS has also issued advice on how to treat stings from sea creatures.