Thames Valley Police receive calls about witchcraft and aliens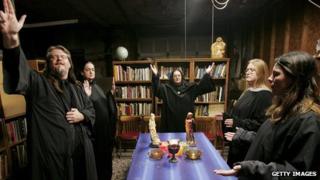 Reports of witchcraft and aliens were among the emergency calls Thames Valley Police has dealt with in recent years.
Forty-eight reports claim supernatural or extra-terrestrial incidents between 2010 and 2013.
Mental health charity Sane said it was "absolutely essential" police communicate with mental health services in cases such as these.
A Thames Valley Police spokesperson said: "We deal with calls of this nature on a case-by-case basis."
'White Arabian horse'
A Freedom of Information request, which asked for reports on mythical beasts, witchcraft, extra-terrestrial beings or the supernatural, showed that officers dealt with reports in Berkshire, Oxfordshire and Buckinghamshire including:
A "white Arabian horse has had its mane plaited". The caller was "unsure if it was linked to witchcraft"
A caller's "sister-in-law is performing witchcraft and voodoo on her"
A caller has "found an envelope with witchcraft symbols on it"
A caller believes "witchcraft is going on" with a Muslim worship group
Katy Jennison, who organises an Oxfordshire meeting group for pagans, witches "and other questers" said the witchcraft claims were unlikely.
"None of them seem to be reporting anything likely to be associated with Wicca or British witchcraft or any of the other branches of Paganism practised in this country," she said.
She added: "The callers who mention witchcraft appear to associate it with strange or bad things happening or being likely to happen.
"An envelope with witchcraft symbols on it, for instance, even if they actually are Wiccan or witchcraft symbols, is no more dangerous or threatening than an envelope with Christian symbols or Jewish symbols on it."
'Christmas tree alien'
A force report was carried out on a Berkshire woman who claimed her Christmas tree was "writhing" and that "there was an alien climbing around in it".
In October 2013 police made further inquiries into a man who knocked on an Oxfordshire woman's window and said he had seen the "ghost of his nan" there.
Officers at Reading police station treated a man who claimed he had an "alien mind" as a hoax caller.
A police spokesperson said: "If it transpires the call is a hoax call, we will take appropriate action."
She added police would attend if there was a concern for a person's welfare.
Marjorie Wallace, chief executive of Sane, said: "In our experience it is absolutely essential that mental health services and police communicate, as it can be very difficult for the police to know what to do when a person expresses thoughts or fears which may lead them to feel abnormally threatened or distressed."