Poole Swash Channel Wreck: Artefacts go on show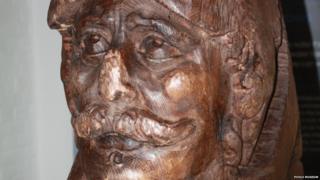 Salvaged items from a 17th Century merchant vessel shipwrecked off the Dorset coast have gone on display.
The so-called Swash Channel Wreck was found in a sand and shingle bank outside Poole Harbour after the bank was struck by a dredger in 1990.
Items including a carved merman and a replica of the rudder are among the highlights of the exhibition being held at Poole Museum.
Little is still known about the name and origins of the vessel and its crew.
A £450,000 conservation project funded by English Heritage has seen several parts of the ship raised, including rare examples of carved Baroque woodwork such as the moustached male head pictured above, which is part of a long rudder.
The 8.4m (28ft) rudder was lifted on to Poole Quay in 2013 and is currently undergoing conservation work by experts in York.
The two carvings of mermen, pictured below, are some of the rare survivals that would normally have been destroyed in the wrecking process or swept away.
It has been regarded by experts as the most significant maritime archaeology project since the raising of the Mary Rose in 1982.
Researchers at Bournemouth University have been attempting to discover more about the story behind the ship.
It is thought to have been an armed trading vessel heading for the Americas, but how it came to be resting on the seabed off Dorset remains unclear.
Among the theories are that the elaborate carvings on board, such as this one, could have made it top heavy, which contributed to its sinking.
Other speculation is it sank while it was attempting to reach the shelter of Studland Bay in bad weather.
Poole Museum manager Michael Spender described it as the "mystery shipwreck".
"There are still all these 'why' questions - why was the ship there and why was it so magnificent?
"The exhibition is a step on the way to understanding more about the ship," he said.
The remaining part of the wreck, some of which is shown here, has been sandbagged and remains under the water.
Almost 80% of the port side of the Dutch ship survived since it sank early in the 17th Century.
The Swash Channel Wreck exhibition is running at Poole Museum until March 2015.