Cornwall and Devon sea temperatures hit seven-year high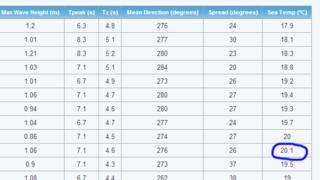 Sea temperatures have hit a seven-year high on parts of the South West coast.
Figures from the Plymouth Coastal Observatory (PCO) show temperatures have been up to 20.1C (68.2F) in July, at Perranporth in Cornwall.
The highest temperature at Start Bay, in Devon was 20.4C (68.7F), with scientists saying strong sunlight and light winds have lifted temperatures.
Plymouth Marine Laboratories (PML) said temperatures were rising by almost 4C a month, twice as fast as normal.
Dr Tim Smyth of PML said: "We were looking at an average year until June, but over the last six weeks temperatures have risen quickly.
"It is not surprising because there has been a lot of sunlight and calm weather but also crucially mild nights, so less heat is lost."
Emerald Siggery of the PCO, which collects data for local authorities, said: "We had a mild winter so sea temperatures have not had a chance to drop so much.
"It's a combination of conditions."
Malcolm Bell of Visit Cornwall said it might persuade holidaymakers to opt for the West Country.
"We estimate that 10-15% of people leave their holiday decisions until the last moment and this might bring them our way," he said.
"With temperatures about 25C (77F) and the sea at 20C (68F), it is close to perfect for Brits who don't like the heat of the Mediterranean."
Surfer Rebecca Pepperell, 33, tweeted her appreciation of the rising temperatures..
She said: "I was in California last October and the temperatures were comparable.
"I wasn't wearing a wetsuit and you don't expect to be able to do that in your own backyard.
"Everyone is enjoying it while they can."
BBC South West forecaster David Braine said that the weather was expected to remain settled for at least the next week.