Was Dale Bolinger a cannibal or creep?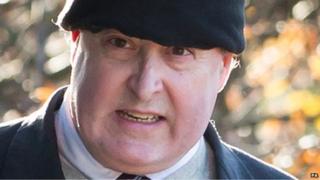 A nurse has been convicted of grooming and trying to lure a 14-year-old girl to England because he allegedly wanted to kill and eat her. Dale Bolinger said his actions were part of an online role-play, but how do police know when a cannibalism fantasy risks crossing the line into reality?
The day before he was due to meet "Eva" - a teenager living in Germany - Bolinger bought an axe from Homebase.
During an internet chat he had told her: "Got the axe, you ready to get that train?" and added: "The idea of making love and then eating you is a very great turn-on."
The girl - whose true identity has never been discovered - did not turn up at Ashford International station. However, Bolinger did.
Months later he was arrested by Kent Police following a tip off from the FBI.
The bureau had been investigating a former NYPD officer, dubbed the "cannibal cop".
Gilberto Valles had been using a website, Dark Fetish Network (DFN), to discuss killing and eating women and had been in contact with Bolinger.
Thousands of pages of chat logs were sent to England for investigation.
"It's some of the worst stuff I've ever seen and I've been in child protection for seven years," said Kent Police's Det Insp Rob Chitham, who investigated Bolinger.
"Over time you think you have witnessed the depths of depravity, but he plumbed it again."
During the trial Bolinger's lawyers claimed he was a fantasist - "more Walter Mitty than Hannibal Lecter".
However, Det Insp Chitham said: "Where the fantasy defence ceases is when the individual steps outside the virtual world and takes action within the real world.
"That is when you start to get a lot more concerned.
"Bolinger stepped outside the virtual world when he made specific plans to meet the girl and purchased an axe to decapitate her."
In the USA, Valles was convicted of plotting to murder and eat women in March.
However, this was overturned by a judge at the beginning of July, due to insufficient evidence that the plot was real.
Bolinger also claimed he had no intention of carrying out his fantasies and - had "Eva" turned up at Ashford International Station - would have taken her home and contacted social services.
"I have heard more convincing defences," said Det Insp Chitham.
"Cannibal fantasies have been around since the earliest times, but the difference in the modern era is that before it was difficult to share these.
"He's a very dangerous man in my view and he's held these fantasies for a number of years, since his teens."