Two men convicted of Zain Sailsman murder in Macclesfield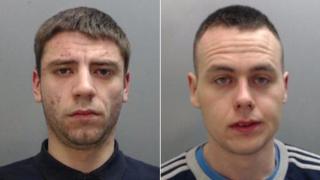 Two men from Cheshire have been convicted of murdering a teenager in Macclesfield.
Zain Sailsman, 19, died from a stab wound to his back in Bullocks Lane on 30 October last year.
Ricky Jervis, 23, from Congleton, and Charles Beadell, 22, from Macclesfield, were found guilty at Chester Crown Court after a trial lasting six weeks.
The two are due to be sentenced with others on Monday. Both men also admitted firearms offences.
Gun link
Cheshire Police said Mr Sailsman's death was linked to an incident at a house in Macclesfield earlier the same month.
A shotgun was shot at the front door of the property in a dispute believed to be connected to drugs, officers said.
Det Insp Steve Jones said the gun was due to be returned to the original supplier, but Mr Sailsman is believed to have moved it on without the knowledge of everyone else.
Police believe this formed part of the motive for the later attack.
In a statement, Mr Sailsman's family said: "Zain's death has ripped the heart out of our family and our lives will never be the same without him in them."