'Vigilantes' catch paedophiles on US teenage chat website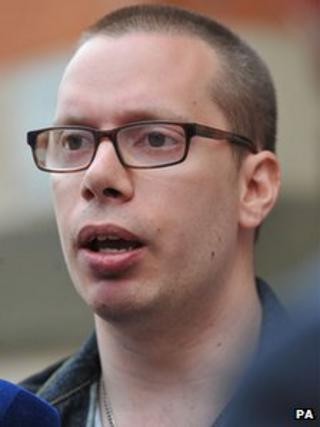 Two paedophiles were caught in a sting operation by two "vigilantes" posing as teenagers online, a court has heard.
Steven Walker, 24, from Oldham and a woman used a US teenage chat website to catch men interested in child sex.
Manchester's Minshull Street Crown Court heard the two were driven to take action after the woman was abused.
Lee Barton, 47, from Doncaster and Darren Bates, 36, from Warrington both earlier admitted attempting to incite a child to engage in sexual activity.
Barton was jailed for 21 months. Bates was given a 15-month jail term suspended for 18 months.
Attempts at grooming
The court heard Mr Walker and the woman set up false usernames on the site in April last year.
Within minutes of posing as a 13-year-old girl they were inundated by attempts at grooming by men, the court heard.
Barton later made contact, claiming to be 18 and requested a private conversation. He also supplied his mobile phone number.
Philip Curran, prosecuting, told the court: "The defendant asked for a picture and whether she was on her own, where her mother and father was, what time they finished work and if she wanted him to come round."
They then revealed he was not talking to a 13-year-old girl and that the telephone call had been recorded.
Bates contacted another false username used by the pair and asked the "girl" to carry out an indecent act.
Mobile numbers were exchanged and Mr Walker used a voice distortion machine to sound like a girl over the phone. A recording of the call was then passed to police.
'Extensive problems'
Robert Sandford, in mitigation for Barton, said the defendant had children and grandchildren and there had "never been the slightest hint of impropriety towards them".
Alexander Langhorn, mitigating for Bates, said the defendant suffered from "extensive problems" and had cerebral palsy.
Judge Timothy Mort suspended his jail sentence as there had been no intention to meet the "girl".
Philip Moule, 66, of Basildon, Essex, was also caught by Mr Walker and the woman.
He pleaded guilty to attempting to arrange or facilitate the commission of a child sex offence and attempting to cause a child to watch an image of sexual activity.
Moule was sentenced to a three-year community order on April 3.
Det Sgt John Coleman, of Greater Manchester Police, said: "While we have a number of convictions here today, there is always a danger that this type of vigilante-style activity could impact negatively on any future court proceedings, which no doubt goes against their initial intention.
"We strongly encourage people not to take the law into their own hands and to contact the police at the earliest possible time to enable us to look into it professionally."