Suffolk to burn Norfolk's waste after incinerator scrapped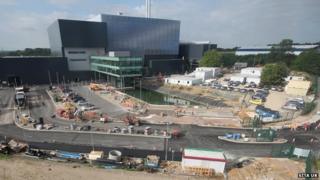 A deal for Suffolk to burn 10% of Norfolk's annual household waste has been signed following the scrapping of the King's Lynn incinerator.
Suffolk County Council said it will see 40,000 tonnes of waste a year from Norfolk burned to create electricity at the new Great Blakenham plant.
The £500m west Norfolk plant was abandoned in April after rising costs.
But the plans will need to be approved by Defra before waste can be delivered to the plant in August.
Norfolk County Council has been seeking alternatives for its waste disposal since the decision was taken to scrap the incinerator at a cost of £33.76m.
Both authorities said they could make savings of around £1m from the two-year deal by reducing landfill costs and improving economies-of-scale at the plant.
When fully operational later this year, the Great Blakenham facility will be able to process up to 269,000 tonnes of waste annually.
Its operator, SITA UK, said it is seeking further contracts to make sure the site runs to full capacity.
If approved, waste is due to start being delivered to the plant in August.