MP Mike Hancock asked to pay back conduct probe costs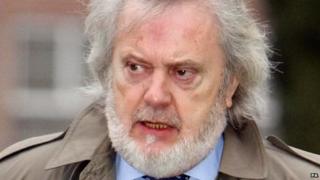 MP Mike Hancock is to be asked to pay back the costs from an investigation into his conduct.
Portsmouth city councillors made the call at a full council meeting on Tuesday.
The former Lib Dem MP and councillor recently made a public apology for an "inappropriate" friendship with a female constituent.
The council said the investigations, which lasted four years, cost tens of thousands of pounds.
The motion was proposed by Portsmouth Conservative Councillor Alistair Thompson and John Ferrett leader of Portsmouth City Council's Labour group.
The audit and standards (hearing) sub-committee will now draw up a breakdown of the costs.
The council said if Mr Hancock refused to repay the costs it would consider legal action.
Election defeat
A spokesman for the MP said: "Mike Hancock's apology was for inappropriate friendship only.
"All standards inquiries including this one are conducted under the auspices of the council's most senior lawyer and he decided how it was to proceed and what legal advice to seek. Mike Hancock had no say in this."
Civil action against Mr Hancock alleging he sexually assaulted a female constituent was dropped in June.
A subsequent statement said both parties had agreed a confidential settlement.
Mr Hancock, who has been an MP in the city since 1984, was arrested in 2010 after a complaint was made about his behaviour towards a vulnerable constituent who had a history of mental health problems.
Hampshire Constabulary decided not to press charges following an investigation.
Mr Hancock resigned from the cabinet of Portsmouth City Council in February and lost his Fratton seat on the council in the elections in May.
The Lib Dems also lost control of the council in the local elections in May.