Jayden Parkinson: Ex 'could have stabbed if he meant to kill'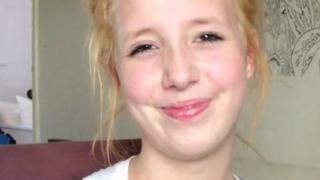 The ex-boyfriend of a pregnant teenager strangled to death carried weapons and could have stabbed her if he really wanted her dead, a court heard.
Ben Blakeley, 22, admits killing Jayden Parkinson and burying her near Didcot, Oxfordshire, but denies her murder.
His defence lawyer Richard Benson QC, said in his closing speech it was a "classic case of manslaughter".
Mr Blakeley told Oxford Crown Court he strangled the 17-year-old during an argument but did not mean to kill her.
Afterwards he buried her in a shallow grave in a field near the footbridge where the argument took place.
Three days later he dug her body up, moving it in a suitcase and burying it in the grave of his uncle, Alan Kennedy, at All Saints' churchyard in Didcot.
Jayden was last seen on 3 December when she met Mr Blakeley to discuss her pregnancy.
Her body was found 15 days later. A post-mortem examination revealed she died from pressure to the neck.
'Nasty and violent'
Mr Benson said: "He didn't want Jayden dead. He wanted her to give an answer to his questions."
The barrister said that Blakeley accepted he regularly carried weapons, such as knives and hammers, for his own protection.
"He has been accused of being a nasty, violent piece of work who would stop at nothing to get his own way," Mr Benson said.
"If he really wanted to do Jayden in and kill her, all he had to do was to take out his knife and plunge it into her 17-year-old body or bludgeon her to death with a hammer.
"She was at his mercy on that bridge. He could have done anything to that girl to make sure she was dead. Instead his hands were around her throat for around 15 to 20 seconds, for her to lose consciousness."
Mr Blakeley, of Christchurch Road, Reading, was helped by his younger brother Jake Blakeley, 17, to bury Jayden's body, the court has heard.
Jake Blakeley, of Venners Water, Didcot, has admitted perverting the course of justice but denies preventing her lawful burial.
He claims he did not know it was Jayden's body, claiming he thought he was burying weapons and later the bodies of a cat and a dog.
The judge is currently summing up in the trial, which continues.