Man fined after setting friend alight in Great Yarmouth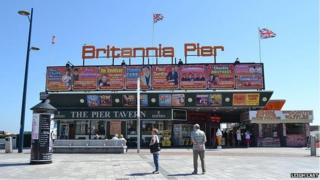 A man who set fire to a friend during a night out in Norfolk has been fined.
Robert Marshall, 34, from Sheffield, was with friends at Long John's Bar in Great Yarmouth in April, when he flicked a lighter at his friend.
Unknown to Marshall, the 34-year-old victim, had been doused in aftershave. He caught fire and was taken to James Paget Hospital for treatment.
Marshall pleaded guilty to assault before Great Yarmouth Magistrates' Court on Monday and was fined £710.
The victim, who was also from Sheffield, suffered wounds to his hands and body.
Sentencing, the court gave credit to Marshall for pleading guilty to assault occasioning grievous bodily harm but ordered him to pay the fine as well as £85 costs and a £71 victim surcharge.