HMP Shepton Mallet prison sale bidding process extended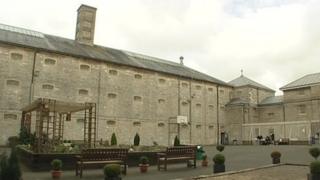 The bidding process for Shepton Mallet prison has been extended.
Last January, the Ministry of Justice (MoJ) said it would close seven prisons to save £63m per year in running costs.
The original deadline to announce a bidder for the jail was the end of March but this has now been put back until mid-August, the MoJ has said.
The BBC understands one of the reasons for the delay is to explore the possibility of selling it along with Dorchester Prison in Dorset.
However, the MoJ has not commented on this aspect.
Horror tours
A MoJ spokesman said: "We are considering bids for the future use of HMP Shepton Mallet and no decisions have yet been made.
"We are working with a number of organisations, including the local authority, and always seek the best value for taxpayers."
An email seen by the BBC confirms that selling both sites is being explored - and the extra time will enable interested parties to consider the proposal.
The BBC is aware of two bidders, developer Pat Bridgeman and businessman Joel Campbell.
Mr Bridgeman's plans include creating a prison heritage centre with hotel, bar and restaurants as well as housing.
Mr Campbell's ideas for the site include a museum, gym, a hotel and ghost and horror tours.
Shepton Mallet prison was the oldest working prison in England and closed last March.