'Concern' over violent robber missing from Ford prison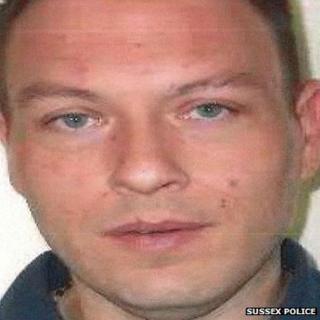 A man convicted of racially aggravated wounding, possessing a firearm and robbery has gone missing from an open prison in West Sussex.
Peter Mahoney left Ford Open Prison on Friday and travelled to Brighton on day release but did not return.
In November 2008, he racially abused a man in a shop in Norwood, south London, went home to get an air pistol and then returned and shot him.
Mahoney, 37, has links to London and Kent, Sussex Police said.
He is described as white and about 6ft 2in tall.
PC Steve Reed said: "Mahoney has a history of violence and is therefore a concern. We need to recapture him as quickly as possible."
The public is advised not to approach Mahoney, but to call 999 immediately.
A Prison Service spokeswoman said: "The Justice Secretary has been clear that keeping the public safe is our priority and has ordered immediate and major changes to tighten up temporary release processes and open prison eligibility.
"Absconds have reached record lows under this government - down 80% over the last 10 years - but each and every incident is taken seriously, with the police contacted as a matter of urgency."
She said: "Open prisons and temporary licence are an important tool in rehabilitating long term offenders but not at the expense of public safety."
Last month Sussex Police revealed 86 inmates were missing from HMP Ford.