Jayden Parkinson killing: Jake Blakeley revealed as co-accused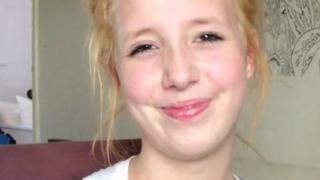 The teenager charged with helping to bury pregnant teenager Jayden Parkinson's body is the killer's younger brother, it has been revealed.
Jake Blakeley, 17, has admitted perverting the course of justice but denies preventing her lawful burial.
A trial judge has lifted an order which had banned media from naming him.
His brother Ben Blakeley, 22, from Reading, admits killing 17-year-old Jayden and burying her near Didcot, Oxfordshire, but denies her murder.
He has told the court he dug two shallow graves, one in the countryside close to where he strangled her, and the second in the grave of his uncle, Alan Kennedy, at All Saints' churchyard in Didcot.
Giving evidence on Friday, Jake Blakeley, of Venners Water, Didcot, told Oxford Crown Court he had helped bury Jayden's body both times.
The prosecution did not accept the "limited basis" on which he pleaded guilty to perverting the course of justice, alleging that when he helped his brother dig the grave he knew it was for Jayden's body.
He said his older brother, Jayden's ex-boyfriend, told him he was burying weapons in the field, and then three days later was burying the bodies of a cat and a dog at the graveyard.
He said his brother told him he needed help to tidy up his uncle's grave in time for Christmas.
"He said it was evil to dig in a graveyard so we have to do it at night and I didn't know anything about that, so I went along with it," he said.
Jayden was last seen on 3 December when she met Ben Blakeley to discuss her pregnancy.
Her body was found 15 days later. A post-mortem examination revealed she died from pressure to the neck.
The defence is currently summing up in the trial, which continues.