Worthing birdmen pick up £10,000 jackpot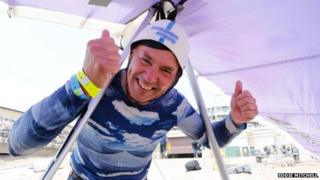 After 31 years of failed attempts, two competitors achieved record-breaking flights at the Worthing International Birdman competition.
Ron Freeman and Tony Hughes shared the £10,000 jackpot prize and trophy after flying for more than 100m (328ft) unassisted in a modified glider
The annual two-day event in West Sussex sees competitors throw themselves off Worthing Pier in various machines and fancy-dress costumes.
Mr Freeman said he was "blown away".
'Hooked on flying'
Mr Freeman, from Newbiggin-by-the-Sea, Northumberland, flew 159.4m (522ft) in his adapted hang-glider, the Geordie Flyer.
The hang-gliding teacher had been trying to win the prize for 17 years.
"I'm blown away, I just can't believe how the glider worked.
"It was a perfect flight... right from a young age Peter Pan was my hero.
"I've been hooked on flying since," he said.
Mr Hughes, from Marlborough in Wiltshire, flew 117.1m (384ft).
He also won the £1,000 prize for the longest flight in any direction, which carried him for 205.5m (674ft) around the coastline.
It was the event's first ever flight in any direction over 200m (656ft), buoyed by strong winds.
Both men tied in the Condor class for serious attempts, which works on a points system with final scores based on flights on both days.
Organisers of the event described it as a "fantastic weekend in which every single record going was broken".