Why are country shows making a comeback?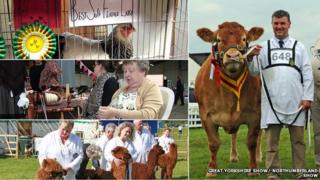 Lawnmower racing, stick dressing and the best display of three onions - England's show season has returned for the summer and visitor numbers are at record levels. But what is the reason behind the resurgence?
At the Leicestershire County Show, in Melton Mowbray, the judging of the hotly-contested poultry section is just getting under way.
In the centre of a quadrangle of cages, each one containing a chicken or a duck, a crowd has gathered.
"The award for the best hard feather bantam goes to Mr N Jones," says a lady with a microphone and the winner steps forward to much clapping.
This kind of day out is proving increasingly popular with the punters.
County and agricultural shows are on the rise and - according to the Association of Show and Agricultural Organisations (ASAO) - nearly seven million people attended them last year, up from five million 10 years ago. But why?
"County shows are drawing in wider audiences," says Charlotte Johnston, the Royal Agricultural Society of England's livestock specialist.
"People from towns and cities are connecting more with the countryside and are even exhibiting now. The National Farmers' Union has done a lot of work to persuade people to buy British while programmes like Countryfile and Lambing Live are getting people interested."
---
The Good Life
Londoner Anne Sullivan relocated to Sawbridge, near Rugby, to live on a farm 12 years ago. She now competes at shows around the country
"My mum said I should have been a farmer's daughter anyway," she says.
"I've always been mad about animals.
"I've noticed more people are coming to shows. I think everybody wants their little piece of 'The Good Life'. It's something people can do even if they live in a town by keeping chickens or growing their own veg."
---
One of those enthusiasts, Shirley Ellen, from Lowestoft, keeps chickens in her back garden.
She has been competing for just more than a year and four of her Sultan hens - Darcy, Nelson, Georgina and Priscilla - have just won best rare breed at Leicestershire.
She has noticed many other newcomers are not necessarily from the countryside.
"I think people are just getting back to a simpler way of life," she says.
"And you can't beat fresh eggs."
Three days after Leicestershire, the Great Yorkshire Show - one of the biggest in the country - is listed on the calendar and it is time for the truckloads of turkeys and the carefully-packed cartloads of cabbages to head north.
Among the competitors is Nicole Sandham, a schoolgirl from Leeds, who has ambitions to become a farmer.
"My friends are more into hair and beauty - things like that," says the teenager whose grandparents also have a farm in Guiseley.
"When I used to talk about the farm, people looked at me strangely but I've definitely noticed they're getting more interested. I think people have more curiosity about how the countryside works."
---
'Escape from the city'
Teacher Sarah McHugh and her husband Andy keep chickens - and a host of other pets - at their home in Leicester. They go to shows with their two daughters.
"It's an escape from the city," says Mrs McHugh.
"We've been coming to shows for about four or five years. It's nice to do something that's a bit different and it's good for the girls to be out and about, instead of sitting in front of computer games."
---
Lady Emma Ingilby, who is on the agricultural society which organises the show, said it was becoming more popular.
"We have seen entries increase steadily over the last few years. This year, they're a record 13,000," she says.
Attendances have also risen by 10,000 in 10 years and - so popular has the show proved - the organisers have now introduced a spin-off - Countryside Live - which takes place in the autumn.
"There is a growing interest in food and farming but the shows that have done well have made it a jolly good day out as well," says Lady Ingilby.
"We try to have a good balance of agriculture and entertainment." Big attractions include the Shetland pony classes, bareback horse riding and the dancing diggers.
"There is a feeling country shows aren't just for country people any more," says Lady Ingilby. "Even my local village show has doubled its visitor numbers."
Yet the past decade has been a rocky ride for county shows since the effective "closure of the countryside" following the 2001 foot-and-mouth crisis.
Some - including the prestigious Royal Agricultural Show in Warwickshire that was once the jewel in the season's crown - closed due to falling profits.
But some argue that crisis led to the current renaissance.
"Without doubt, foot-and-mouth prompted a radical rethink," says Paul Hooper, ASAO's secretary.
"It made the show industry realise it needed to work together to promote the countryside. Before, everybody was a bit blinkered and thought people would just continue to come back every year. The crisis gave us a jolt."
"We try to reach out to people from towns, as well as people from the countryside," says Nigel Pulling, chief executive of the Yorkshire Agricultural Society. "There's no point in just preaching to the converted."
Shows still face the same struggles. The weather - not to mention unexpected crises like foot-and-mouth - can force closures.
"It costs a lot to put on a show," says Rhona Duncan, the poultry show chair in Leicestershire.
"It's £90,000 for us to hire the marquees alone - and you have to put down a deposit for them. If it rains, you're in trouble."
Yet Gaynor Shotton, who organises the Northumberland Show, which has seen its attendances increase by 4,000 in 10 years, says it is also important shows retain their traditional appeal.
"We definitely think we are attracting a wider audience," she says. "We try to appeal to the urban and rural communities at the same time.
"You can come to our show and still find the traditional activities, like stick dressing and the industrial tent, alongside new, family-friendly things like the petting zoo.
"We wouldn't want to see the show drift too far from its roots."