Jayden Parkinson killing: Ben Blakeley denies murder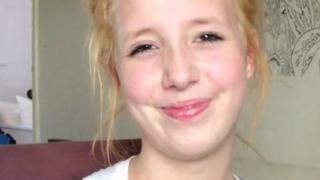 A man who strangled his ex-girlfriend and buried her in his uncle's grave has told a court he is "not a murderer".
Ben Blakeley, 22, from Reading, denies murdering 17-year-old Jayden Parkinson near Didcot in December, but has admitted manslaughter.
The jury walked the route he took when dragging a suitcase with her body inside. Blakeley said strangling Jayden did not make him "cold and callous".
She was found in a disturbed grave at All Saints' Church 15 days later.
The jury members were shown a disused railway that runs from Didcot towards Upton, and were told the couple went to the spot to smoke drugs and to discuss whether Jayden was pregnant.
'Don't like you'
Later at Oxford Crown Court they heard that the couple's final argument took place on the footbridge.
Blakeley, of Christchurch Road, described grabbing Jayden around the throat with both hands and strangling her before she fell into mud below.
During a heated and expletive-ridden exchange with Richard Latham QC, prosecuting, he said: "I am not a... murderer. I have met murderers but I am not like them.
"I think about that night every day. I see it in my... dreams, man. To me that doesn't make me cold and callous."
At one point he told the prosecutor: "I don't like you".
When Mr Latham asked him if he had "lost his temper" with Jayden, he replied that he "grabbed her no different" than a "million" other times.
Mr Blakeley returned with a suitcase three days later, placed her body inside, and dragged it across fields towards Upton.
But he struggled with the weight and called a taxi which took him to the church where the body was buried.
He was helped by a 17-year-old boy, who cannot be named for legal reasons.
The boy has admitted perverting the course of justice but denies preventing the lawful burial of Jayden.
A post-mortem examination revealed she died from pressure to the neck.
The trial continues.