Rabbit wheelchairs and dog pacemakers: Crowdfunding to pay vet bills
By Jodie Smith
BBC News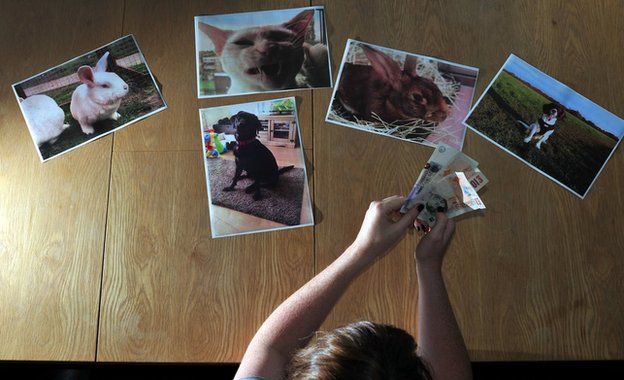 Liver failure, cataracts, broken limbs - just three of the costly conditions which can afflict a pet. Some owners are turning to the generosity of the global unknown for help.
Tony Warburton's dog Alfie was diagnosed with a heart condition in September last year.
"The vets say his heart could fail at any moment and he has a maximum of a few months to live, if he's lucky," wrote Mr Warburton at the time.
He was told Alfie needed a pacemaker, to "get back to full health very quickly".
Struggling to pay the vet bills and desperate to save Alfie, Mr Warburton decided to try crowdfunding as "a last resort", after a friend suggested it might be a way to raise enough money.
He set up a page on Go Fund Me, a "fundraising site for personal causes and life-events", where anyone can donate money towards a given cause.
Within a few days, more than £4,000 had been raised to pay for Alfie's treatment with 252 people giving money to his cause.
Along with their donations, people wrote messages of support.
"I felt compelled to donate," said one. "Having a dog myself, I understand that losing them is totally devastating when we can help," wrote another.
Mr Warburton, who lives in Surrey, said 70% of the donations came from people he did not know, which "blew him away".
Cat owner Ingrid Hooley, from north London, had a similar experience when she turned to crowdfunding for her cat Barny.
The one-year-old Tonkinese broke toes on both his front paws when he fell out of a 50ft (15.24m) high window in March this year.
He needed surgery on his legs and aftercare, totalling about £6,000.
Ms Hooley's pet insurance for Barny had expired the day before his accident. "I was having nightmares and bursting into tears about how I could help him," said Ms Hooley.
But then a group of fellow Tonkinese cat owners on Facebook said they would like to donate money towards Barny's operation, and said they wanted to use a third party site to do so.
"The crowdfunding idea grew from there," said Ms Hooley.
With the money raised from the crowdfunding page and elsewhere, Barny was able to have an operation to pin his broken toes.
Like Mr Warburton's page for Alfie, many donations came in from people Ms Hooley did not know.
"I found it overwhelming in terms of the support of people out there. It was truly worldwide. There are 70 of us on the Tonkinese group but it became much bigger than that.
"One woman, who donated money from Texas, wrote to my vet to thank him for treating Barny," she said.
Mr Warburton was also touched by the amount of donations: "I couldn't say thank you enough. I wrote everyone a personal message.
"People's generosity restores your faith in humanity," he said.
Catherine Taylor, from Dagenham in east London, has started crowdfunding to help a pair of rescue rabbits.
Flip, a New Zealand white rabbit, has been diagnosed with a degenerative spinal disease and cannot use her legs.
Eighteen-month-old Belgian hare Atticus has a neurological condition which means he is unable to walk.
Ms Taylor said she has turned to crowdfunding to raise money and "give both rabbits a new lease of life" by buying them custom-made wheelchairs.
She thought a fundraising page was an interesting way to raise the money needed.
"You are asking directly for money, but it's in an acceptable way. You're putting all the story out there and giving people the option," she said. "What harm can it do?"
The chief executive officer of Go Fund Me, Brad Damphousse, said the site attracts "many people hoping to raise money for their pets".
But are there safeguards in place to make sure the fundraising is for a genuine cause?
Mr Warburton decided to name the vet treating Alfie, and keep donors up to date with his pet's progress.
"I wanted people to be able to check it was all true," he said.
Mr Damphousse said the level of trust on the Go Fund Me site was "very high", because "most donations will come from personal family and friends".
"A campaign's earliest donors are essentially vouching for the authenticity of the fundraiser," he told the BBC.
"This 'social proof' helps other potential supporters make an informed giving decision.
"In other words, people trust GoFundMe campaigns because they personally know the individual they're supporting, or have a relationship with someone who does."
However, for animal lovers desperate to help their pets, there may be other options outside of crowdfunding.
Animal charity PDSA provides more than two million free veterinary treatments for sick and injured pets belonging to people in need.
"There's no doubt that the UK is a nation of animal-lovers and owners will often go to extraordinary lengths to keep their pets happy and healthy, as shown by the rise in crowdfunding," a spokesman said.
"However we believe the long-term costs of looking after a pet, be it veterinary bills, feeding or any other factor, should always be borne in mind when taking on the responsibility of an animal.
"Purchasing suitable pet insurance is certainly one responsible measure that many pet owners rely on to offset the costs of veterinary treatment."
So why are these animal crowdfunding pages successful? What motivates people to give their money to a pet they do not know?
Dr Beth Breeze is director of the centre for philanthropy at the University of Kent.
"Research has found that we often ignore need when it's in a crowd. We can't grasp suffering on a large scale.
"But when you personalise an appeal, and give it a name and a face, people feel they have to do something," she said.
She said the crowdfunding pages for pets - a "modern-day whip-round" - had all the ingredients needed for a successful fundraising campaign.
"When people give money to charity, they like to know where their money has gone.
"The pets' stories appeal to people's passions, and you can see what difference your money makes to their lives."