A local take on the growth agenda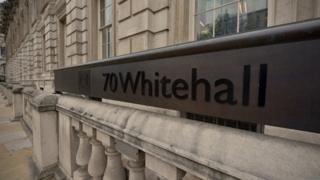 "This is the end of the Whitehall-knows-best culture": David Cameron
When the prime minister came to Halesowen College to unveil his government's growth fund, this was his answer to my question about the real significance of these latest deals.
They had been billed as the response to the "No Stone Unturned" report unveiled in Birmingham by the former Deputy Prime Minister Lord Heseltine nearly two years ago.
The "big idea" is to give local decision-makers, in the shape of the Local Enterprise Partnerships (LEPs), a bigger say in economic development with correspondingly less interference by civil service mandarins closeted in SW1.
In this case, the £775m of growth funding committed to the West Midlands over the next six years will be handed down to our region's six LEPs, headed by leading business people and councillors.
An intriguing thought occurs to me:
"A story about the economy this most certainly is. But is is the PM also telling me it's just as much about localism?"
Ah, yes, localism. We all remember that don't we? The idea that decisions are better made locally whenever and wherever possible, unless they absolutely have to be taken by central government, rather like the doctrine of subsidiarity in the EU. Or to put it more simply:
Bottom up, not top down!
But the government's critics believe its early overtures have been ringing increasingly hollow as its years in office take their toll: the NHS changes and the National Planning Policy Framework are often cited as evidence of a distinctly top-down approach.
I wonder how many of the onlookers during that prime ministerial visit to the Black Country registered the significance of the man accompanying him as his native guide: the Conservative MP for Halesowen and Rowley Regis James Morris.
In an earlier incarnation, before he became tangled up in party politics, Mr Morris was the chief executive of a research organisation called Localis. As the name suggests, its mission is to identify and recommend opportunities for local answers to local questions in place of the orthodox default mechanisms which still deliver so much centralising clout to Whitehall and Westminster.
But Labour say the government has not been ambitious enough: the man often seen as their answer to Lord Heseltine, the former Transport and Education Secretary Lord Adonis, promises more money and more powers to be devolved to local decision makers than is possible under the existing regime.
This is how it works.
'The plot thickens'
Each of our region's six LEPs first submitted its own bid for growth funding to the government. Ministers and officials then conducted a competitive evaluation from which each LEP has been rewarded accordingly. Growth funding handed over to them from central government is committed item by item, project by project, according to the perceived merits, or demerits, of its original plans.
So all the schemes still have to go through the Whitehall and Westminster loop to a greater extent than Labour are now recommending. They want local leaders to have more discretion over who and what should benefit.
This is where the political plot thickens.
Because with a total of £12bn of public money flying around, central government is not about to relinquish at least a measure of control.
And the government says it has outdone Labour on localism where it really counts, by abolishing the regional development agencies including Advantage West Midlands.
These giant pan-regional bodies, devising and funding home-grown regeneration strategies, have been replaced by the LEPs.
Our region's six partnerships together have significantly less money to spend than AWM did, even after this week's funding deals. But ministers say it's a question not of how much money, but of what you do with it. They believe that by being closer to the communities they serve, the LEPs are better-placed to produce truly local economic strategies for triggering growth, tailored to the needs and potential of each area.
Now if you think this sounds like the cue for a political debate, you are absolutely right.
On this weekend's Sunday Politics Midlands, I will be joined by two MPs on opposite sides of this issue.
The Liberal Democrat MP for Birmingham Yardley, John Hemming, may have a deserved reputation as a maverick on many issues, but on the central question of the economy he is a strong supporter of most of the measures introduced by the coalition government.
Shabana Mahmood, by contrast, is not. As a Shadow Treasury Minister, the Labour MP for Birmingham Ladywood can expect to be questioned more and more closely about what precisely an incoming government led by Ed Miliband would do instead as the general election approaches.
Sunday Politics Midlands will be in its usual 11:00 slot on BBC One on Sunday, 13 July 2014.
And you can find more details of schemes to which the growth fund will be committed in your area by visiting facebook.com/midlandstoday.