North-east England hit by flash flooding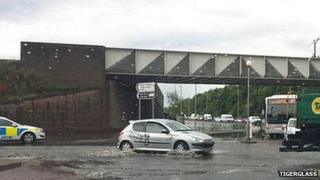 Parts of north-east England have been hit by flash flooding, which has closed a school and affected emergency admission to a hospital on Tyneside.
Pupils at St Wilfred's RC College in South Shields were sent home after heavy rain caused flooding to some parts of the Temple Park Road site.
People have also been asked to avoid South Tyneside District Hospital's A&E department, after it partially flooded.
Some roads in Tyneside, County Durham and Teesside were closed for a time.
A house in Hebburn suffered damage to its roof when it was struck by lightning.
Steve Williamson, South Tyneside NHS Foundation Trust's chief operating officer, said: "As a result of extremely heavy rain, flooding has affected parts of the South Tyneside District Hospital site.
"The majority of our patient services, including operations and outpatients appointments, are going ahead as planned.
"However, we would request at this stage that patients avoid attending our A&E department and, where possible, find an alternative by going to another hospital A&E or a local minor injuries unit until further notice."
Services on the Tyne and Wear Metro network in North and South Tyneside were suspended for a time because of track flooding, although operator Nexus said all trains were now running normally.
Police have urged drivers across the region to be aware of standing water on roads.
Localised heavy downpours are forecast for most of the day.