Wines, signs and equines: How we honour galloping greats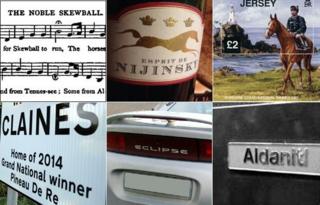 A 1,000-year-old village in Worcestershire has erected its first-ever 'Welcome to...' road sign. But instead of referring to Claines's ancient origins, it praises the Grand National-winning horse Pineau de Re, who lives there. Which other galloping greats have been honoured in unusual ways?
Vanguard, winner of the 1843 Grand National
Vanguard was arguably the most versatile racehorse ever. After winning the steeplechase, which was then known as the Liverpool and National Handicap Steeplechase, he was presented to his rider, Tom Olliver, as a gift.
Olliver held the horse in such high esteem that when Vanguard died, he had him made into a sofa so he could continue to enjoy sitting on him.
Legend has it that the jockey would like nothing better than dropping off to sleep on Vanguard after having a few drinks.
The rest of Vanguard, however, was either donated to feed the poor of Liverpool or turned into glue.
Aldaniti, winner of the 1981 Grand National
Aldaniti had recovered from tendon problems and a broken leg while jockey Bob Champion had overcome testicular cancer before their victory.
The story of triumph over adversity struck hearts across the nation.
Along with Josh Gifford, the trainer at their stables in Findon, West Sussex, the pair became the subject of a tear-jerking feature film.
Although Champion and Gifford did not star in it, Aldaniti did. Playing himself, he rubbed withers with Edward Woodward, Alison Steadman and Kirstie Alley.
The victory earned them the BBC Sports Personality of the Year team award and the win was chosen as one of the 100 Greatest Sporting Moments by Channel 4 viewers in 2002.
Aldaniti also had a British Rail Class 86 train named after him. He died in 1997, at the ripe old age of 27.
Corbiere, 1983 Grand National winner
When Corbiere galloped to the victory he became the first National winner to be trained by a woman - Jenny Pitman.
He had been trained in Upper Lambourn, Berkshire, and was named after a lighthouse on Jersey, the beam of which reminded his owners of the blaze of white running down his face.
After his win he was taken to the island so he could see the lighthouse he was named after. His reaction to his towering namesake was not recorded, but residents of the bailiwick called it a "fantastic occasion".
A stamp featuring his portrait was issued in Jersey in 2013, 25 years after Corbiere died.
Red Alligator, winner of the 1968 Grand National
Following the win, a County Durham brewery changed the name of a pub from The Crown and Anchor to The Red Alligator.
The inn, which was near the horse's home stables in Bishop Auckland, is still in business.
Sticking with his lucky colour, 19-year-old jockey Brian Fletcher went on to win the Grand National twice more, on Red Rum.
Skewball
Skewball, also known as Stewball, was born in 1741 in Babraham, Cambridgeshire. His six wins in 1752 made him the top-earning runner of that year.
Rather than his success on the racecourse, though, Skewball was perhaps most famous for inspiring a sporting ballad.
Numerous broadsides - single sheets of cheap paper printed on one side, often with a song, news and sometimes illustrations - spread the lyrics and melody of Skewball across England, and migrants to America took it with them, where it became known as Stewball.
Common to both is the story of an underdog who wins a race, beating the favourite. In Stewball he wins because the lead horse stumbled. In Skewball he wins simply by being the faster horse.
A more fundamental difference could be that Skewball talks, while Stewball behaves like a horse and does not.
The oldest broadside identified with the ballad is dated 1784 and is held by the Harding Collection of the Bodleian Library of the University of Oxford.
Nijinsky, winner of the Triple Crown in 1970
Among other major titles, in 1970 Nijinsky won the 2,000 Guineas Stakes at Newmarket, the Epsom Derby and the St. Leger Stakes in Doncaster.
The horse enjoyed something of a celebrity lifestyle, drinking a daily bottle of stout, playing himself in a film narrated by Orson Welles, and siring 155 race winners.
One of his sons, Seattle Dancer, became one of the most expensive yearlings in history when he was sold for £13.1m in 1985.
Nijinsky has both a wine and a breed of winter wheat named in his honour.
The wine, a cabernet sauvignon, has been described as "well-rounded and stuffed with ripe bramble fruit and nuances of thyme and rosemary".
Eclipse
Eclipse, born in 1764 in Windsor, Berkshire, was an unbeaten racehorse who was retired after 17 months owing to lack of competition - no punters would bet against him.
The Mitsubishi 263 hp sports car, the Eclipse, was not named after the astronomical event but for the equine phenomenon.
Bred by Prince "Butcher" William, Duke of Cumberland, (voted by BBC History magazine as one of the worst Britons ever), Eclipse's descendants do not just include Kauto Star and Desert Orchid - the Royal Veterinary College estimates his DNA is in almost all thoroughbred racehorses.
So not only can Eclipse be seen going full-throttle on the motorway; he can be seen trotting along the highways and byways of the English countryside.