Oxfordshire to outsource to Hampshire council firm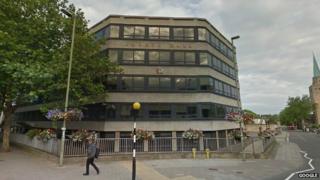 Human resources and finance staff at Oxfordshire Council Council could be moved to Hampshire or face redundancy if an outsourcing plan is approved.
About 140 staff would be affected if the authority goes ahead with a plan to transfer the teams to a business centre run by Hampshire County Council.
Hampshire's Integrated Business Centre (IBC) launched in April.
If Oxfordshire's cabinet approves the scheme, aimed at saving £700,000 a year, a consultation will be held.
Oxfordshire County Council said if staff chose to transfer to Winchester they would be eligible for financial relocation support.
'Stacks up financially'
If staff chose not to transfer, the council would do its best to redeploy them - although some redundancies could occur.
Deputy council leader Rodney Rose, said: "There are a number of clear advantages to linking up with Hampshire, not least that such a public to public partnership would lead to more seamless transitions.
"We now know that this proposal stacks up financially and would deliver the savings we must make while continuing to provide quality back-office services for our frontline teams."
The cabinet is being asked to approve the plan when it meets on Tuesday 15 July.
Hampshire Constabulary and Hampshire Fire and Rescue are due to join the IBC.
In 2011, Oxfordshire County Council agreed to share computer technology with Hampshire County Council as part of a plan to save £1m over three years.