Window tribute to PC David Rathband and fire victim PC David Beech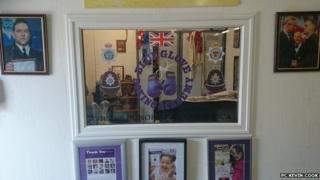 A window has been unveiled to commemorate a policeman shot and blinded by gunman Raoul Moat and an officer who died in a house fire.
It was added at Stoke-on-Trent's Blue Glove Boxing Academy (BGBA), which held a charity event raising £38,000 when PC David Rathband was a guest.
PC David Beech, who died in a fire in the city, used the academy which is available for emergency services staff.
Photos of the men have been put up either side of the window.
At an inquest in Newcastle in January, coroner Eric Armstrong found PC Rathband, 44, who was shot by Moat in East Denton, Newcastle, in 2010, took his own life in February 2012.
The £38,00 raised by the BGBA event in 2011 went to the Blue Lamp Foundation, which was set up by PC Rathband and supports emergency service workers injured in the line of duty.
PC Beech, 30, who was found in Tunstall, Stoke-on-Trent, in March, died in a fire started by cooking that had been left unattended on a hob.
PC Kevin Cook, who helped with the window design, said his late colleague PC Beech went to the academy gym and worked as a boxing tutor.
"It's something the club can give back for all the good work these two officers did," he said.
PC Rathband's wife, Kath, said the boxing academy "meant a lot to David" who was originally from Stafford.
She said: "I have very fond memories of attending a charity boxing event they held for David.
"The new window provides reflection and inspiration for people who attend the academy as well as being a lasting tribute to David and Dave."