Athena Tennis Girl poster dress sells for £15k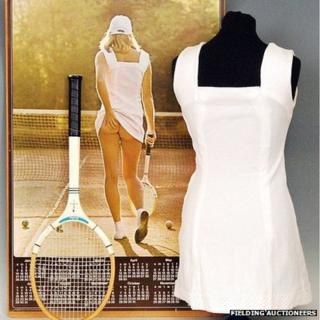 The white summer dress and other items related to the iconic 1970s Tennis Girl poster have sold for £15,500.
Fieldings Auctioneers said dozens were interested in the lot, which had a guide price of £1,000 to £2,000.
The image of Fiona Butler, 18, at the University of Birmingham's courts in 1976 was printed by Athena and sold more than two million copies.
Carol Knotts, who made the dress aged 12 and was the lot's seller, said she was "astonished" by the sale figure.
The image was taken by the late Martin Elliott, who was the boyfriend of Ms Butler at the time.
'Slice of history'
Ms Butler, who lives in Worcestershire, was not paid for her modelling.
The dress was on show at Wimbledon before it was auctioned.
The tennis racquet from the photo, the dress, a 1979 poster and a 1980s limited edition canvas print were auctioned on the day of the ladies' singles final.
Fieldings Auctioneers said an anonymous buyer on the phone claimed them following interest from "registered bidders from all over the world", with the furthest away being in New Zealand.
There were eight phone lines open, a "handful of committed people" at the sale room in Stourbridge and "tens of people" interested on the internet, it said.
Director Will Farmer said although there was a guide price, the auctioneers never knew what the lot would go for.
He said: "We have nothing to compare it to because it's unique - nothing like it has been sold before.
"You're buying a slice of history and what price is an icon?"
Ms Knotts, a friend of Ms Butler, said she was "kind of amused" by the interest in the poster over the years.
The 55-year-old barrister, who lives in Winchcombe, Gloucestershire, said she did not know the dress was on the poster until her sister at university saw it in 1978.
Asked about the auction, Ms Knotts said: "I am astonished because when I made (the dress), I was saving money and it's made a lot of money.
"It was cheaper to make your clothes than to buy them then, so I used to make quite a lot of clothes.
"You go to a dinner party and people will say 'what's your claim to fame?'
"And that's the one I've always come up with."