WW1 nurse Edith Cavell to feature on new £5 coin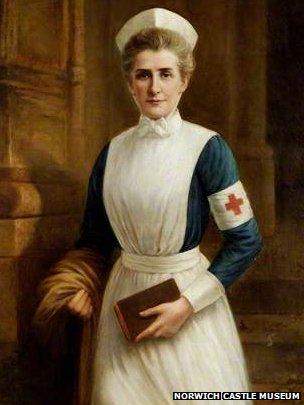 Edith Cavell, the British nurse executed by the Germans during World War One, is to be featured on a new commemorative £5 coin.
The coin will form part of a set to be issued next year by the Royal Mint marking the centenary of the war.
Cavell worked as a nurse in German-occupied Belgium, helping save the lives of soldiers from both sides.
She was shot by a German firing squad for helping Allied soldiers to escape across the border into the Netherlands.
Treasury minister Nicky Morgan said: "She showed true bravery by helping injured soldiers, regardless of their nationality, and it is right that she should be honoured as a British hero.
"She risked her life to help Allied forces escape and in doing so paid the ultimate price. It is important that we remember the sacrifices made by so many people in different ways during the war."
The decision to feature her on the £5 coin follows a campaign for her to be featured on £2 coins.
Relatives of the nurse, a vicar's daughter from Swardeston, near Norwich, delivered a petition bearing 110,000 signatures to the Treasury.
Campaigners said the coins should also celebrate those who advocated peace.
Related Internet Links
The BBC is not responsible for the content of external sites.