'Conventional oil drilling' set to begin near Horley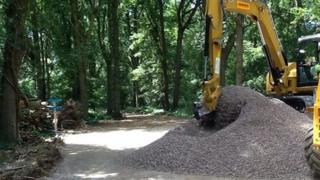 Up to 60 days of exploratory drilling for oil is to begin at a site situated on the Surrey/Sussex border next month.
Horse Hill Developments is building a well at Horse Hill, near Horley, just a few miles from Gatwick Airport.
It is taking on a project first started by Magellan Petroleum in 2011, which was given planning permission to drill a borehole and undertake tests for oil.
The company and Surrey County Council stressed that it was a "conventional drilling project" and not fracking.
Horse Hill Developments is linked to Angus Energy, which already operates wells at Brockham and Lidsey in West Sussex.
Fracking concerns
The company said if there was not enough oil at the site, it would plug up the well and restore the agricultural land and woodland.
It is being cleared to accommodate a 35m tall (114ft) rig to enable it to drill for the borehole and test for hydrocarbons.
A new access road is also being constructed.
Horse Hill Developments said the site was currently used for grazing and hay-making, and was 400m (0.2 miles) away from the nearest properties.
Local resident Christopher Lowe said it was not the first time the area had been subjected to oil drilling.
"We've been living with this, on and off, for 40 years because Esso drilled in more or less the same place [but] they didn't find oil in commercial quantities.
"The new companies have come along, with the advantage of better seismology and maps, and they are hoping that they've got good prospects for conventional oil and gas here," he said.
Mr Lowe said while there were no local objections to the drilling, there were a number of concerns about the months of disruption, along with the "dust, noise and vapours".
Residents were also wary that it could lead to fracking for shale gas, and that if oil was found there could be more drilling sites and wells.