Tour de France Grand Depart diary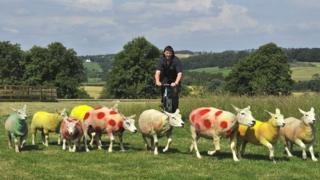 With the world's biggest bike race starting in Leeds on 5 July, BBC Yorkshire's Tour de France correspondent Matt Slater rounds up the best of the gossip, opinion and stories, on and off the bike, and also tries to explain some of cycling's unique lingo and history.
TOP STORIES
So, one day to go, then…what are we going to talk about on Monday? Actually, do not tell me, the diary will be lying down in a darkened room, with a wet flannel on its forehead. Which is why it is a very good thing the Farmers Guardian has managed to sneak in for its diary debut before the broom wagon arrives, and what a debut it is. Two years ago, at the start of the final stage to Paris, the local organisers performed some bizarre ritual involving sheep wearing Tour jerseys. Yorkshire has gone one louder. Keith Chapman, a farmer from Killinghall in North Yorkshire, has painted the jersey colours on his flock, although presumably he did not bother to do one for the young rider's white jersey.
Full story: Farmers Guardian
Painting sheep, of course, is just another example of Yorkshire taking advantage of its natural resources…but could the taking advantage being going too far? It seems another North Yorkshire farmer, Ian Hammond, has decided to put remote-controlled "sheepcams" on five of his flock to get a "ewe-nique" view of the race. Hold on a moment, Ian, are these sheep accredited camera operatives? Will they be filming race action or just the backs of their heads? If it's the former, it could get quite expensive. And have you filled out a risk assessment form for this outside baa-cast? Hmmm, the diary notes that this story has been written by a Victoria Woollaston.
Full story: Daily Mail
As everybody knows, there are three breeds of alpaca, the South American version of the sheep, the Suri alpaca, the Huacaya and the Tour de France alpaca. Hazel Brow Farm in Swaledale has some fine examples of the latter. Word of warning: they are very cute, but they spit, as the diary's own flock once discovered on a family visit to a petting zoo.
Full story: itv.com
We're all cycling experts now, right? Yeah…erm, why do they all ride in a big bunch again? Have no fear, bluffers, The Guardian's northern monkey Helen Pidd has written a superb guide for hanging with the hipsters. There is so much to enjoy here I am just going to get out of the way (although I particularly enjoy the section on comfort breaks and shaved legs).
Full story: The Guardian
"OK, so Wiggo is not riding. I think I just about understand that - something to do with him not be super domesticated or something - but can I see what it is like to ride the route whilst sporting a beard?" Yes you can. Here is BBC Radio 5 Live's OJ Borg sweating profusely in the Dales last month.
Full story: BBC Radio 5 Live
CYCLING ROUND-UP
Defending champion and marginal pre-race favourite Chris Froome has been on good form in the press conferences of the Tour's pre-race/phoney war period, answering questions on his fitness, main rivals, teammates, absent friends and the band line-up at Thursday's opening ceremony. OK, I made the last one up, but he did talk about the other bits, as you can see here. Off camera, he admitted his crash at last month's Dauphine in southern France hurt a lot more than he let on. Nothing was broken, but he was badly bruised and grazed. He has trained well since, though, and remains confident he still has "the measure" of Alberto Contador, the man most pundits think will give Froome a much, much closer race this year.
The other interesting line from the Team Sky camp is that Richie Porte is fully recovered from his various ailments and has been in looking very good in training. This could be decisive. Froome was a comfortable winner last year, despite his team not always being particularly comfortable themselves. Contador's Tinkoff-Saxo team has looked pretty good for most of this season, but will definitely be weakened by Roman Kreuziger's doping-related absence.
The last few days before the Tour are, frankly, torture for the riders. They know they have to keep ticking over in terms of fitness, but they also know they need to rest. They know they have to talk to fans, the media and sponsors, but they also live in fear of catching a cold. Team Sky's riders have started wearing their own clip-on microphones now, so that dozens of grubby cameramen are not putting their paws all over them. And then there is the ever-present risk of a crash. Poor Michael Matthews' Tour debut is now in doubt after he came off on a training ride on Wednesday. The young Australian, who enjoyed a fantastic ride at the Giro d'Italia, has had six stitches in his hand and faces the much-feared late fitness test.
TWEET OF THE DAY
"So that's the last stress-free ride done for a while…a few people out still! #calmbeforethestorm"
Indeed it is, @GeraintThomas86, and all the best to you over the next three weeks. For those who do not know the Team Sky star, Thomas was the youngest rider in the race the last time the Tour came to the UK in 2007, and was quick to point out in Thursday's press conference that he is still the youngest member of his team. The double Olympic champion is one of Froome's most important support riders, and his contribution to the Kenyan Brit's victory last year features prominently in Froome's autobiography. Thomas broke his pelvis in a crash at the end of the first stage in Corsica but carried on all the way to Paris in a quite remarkable display of nuttiness. Some think he could one day win this race, but for the meantime he is the consummate team player, and a very good egg.
TODAY'S TOUR TRIVIA
This is more of a point of clarification/public service announcement than actual trivia, but there appears to be some confusion out there about the first stage's start(s). The riders set off from Leeds Town Hall at 11:10 on Saturday for the simple reason that Leeds Town Hall houses Leeds City Council and Leeds City Council have paid a lot of money to bring the race to Yorkshire. The riders then chit-chat their way, in F1 terms, behind the safety car to Harewood House, where they start again at 12:00. That is 0km and where the race clock starts. They do not actually start racing, however, until they are safely off the estate and on the road to Otley.
PUBLIC SERVICE ANNOUNCEMENT
This is more of a personal message from the diary to its journalistic colleagues from around the globe: learn from our mistakes. Haaaah-wood House belongs to Lord Haaaah-wood and it is in the village of Hair-wood. Stage one passes through the lovely market and brewery town of Mazz-'am, not Mash-'am. And stage two goes through Ooo-ti-bridge, but will send angry emails to your boss if you say Out-ti-bridge. For more on this kind of thing, the Huffington Post has come up with a few more essential local phrases.
And with that, the diary will sign off and get a French crepe from the BBC Yorkshire cafe. Thank you, merci, enjoy, I'm reet chuffed and stay classy, Yorkshire.