Jayden Parkinson murder: Ex told by father he was 'evil'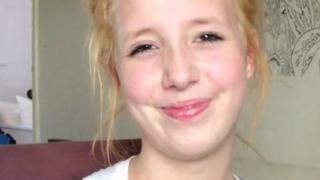 A man accused of murdering his pregnant ex-girlfriend has told a court how his father told him he was "evil" the day he was born.
Ben Blakeley, 22, from Reading, denies murder but admits dumping the body of 17-year-old Jayden Parkinson in his uncle's grave.
Giving evidence for the first time he told the jury how he had been beaten by his father from the age of five or six.
He was taken into care at the age of 11, the court heard.
Before Mr Blakeley started giving his evidence, he asked for the suitcase in which he transported Jayden's body to All Saints' graveyard to be removed from in front of the witness box.
He said he had not intended to kill Jayden and thought she was joking before he realised she was dead.
Knife under pillow
Describing his early years he said: "When I was born [my father] said I was evil and he told my mum she should have left me in the John Radcliffe Hospital.
"One of my first memories is of him coming into the room with a boot and hitting me.
"He used to take me and pick me up by the throat all the time."
Mr Blakeley told the court he had slept with a knife under his pillow from the age of eight.
Reacting to his behaviour in court, defence barrister Richard Benson QC asked Mr Blakeley: "Why do you look like you are smiling as you're talking?"
He replied: "I'm sorry man - it's just the way I am - it's got me into a lot of fights - I'm nervous."
Mr Blakeley said his relationship with Jayden was "good" at the beginning.
"We had a laugh, smoked weed," he said.
But he admitted he later became "controlling, jealous, possessive".
He had threatened to post intimate naked videos and photographs of Jayden on Facebook, jurors were told.
Split up
Mr Benson asked: "Did you ever split up?
"Yeah, all the time, sometimes for five minutes sometimes for five days, we'd split up all the time," Mr Blakeley replied.
However, he told the court: "We were trying for a kid - we tried for a while. We spent a lot of money on tests.
"I know it's going to sound bad, but if she got pregnant it would have solved our problems - we would have got a flat."
Mr Benson asked: "Was that the only reason to have a kid?"
"No, I loved her," he replied.
Jayden was last seen on 3 December when she met up with Mr Blakeley.
Her body was found on 18 December buried in the grave at a cemetery in Didcot, Oxfordshire.
Mr Blakeley admits manslaughter but denies murder.
A 17-year-old boy from Didcot, who cannot be named for legal reasons, is also on trial.
A post-mortem examination revealed Jayden died from pressure to the neck.
The trial continues.